No fewer than 603 people have lost their lives, 2,407 injured and 1.3 million displaced by the current flooding that hit some states in Nigeria.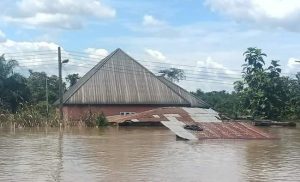 The flooding, described by many as unprecedented, has affected more than 2.5 million people, partially damaged about 121,318 houses and totally damaged 82,053 houses, according to the Minister of Humanitarian Affairs, Disaster Management and Social Development, Hajiya Sadiya Umar Farouq.
The disaster also partially damaged 108,392 hectares of farmlands and completely destroyed 332,327 hectares of farmlands across the country.
The Nigerian Meteorological Agency (NiMet) had on Feb. 15 released the 2022 Seasonal Climate Prediction, informing Nigerians that 2022 rains would be heavier and longer.
The Nigerian Hydrological Services Agency, in its Annual Flood Outlook (AFO) released on May 12, stated same.
Analysts are worried that flooding may wreak more havoc in 2022 if timely caution and more interventions are not made.
This is especially as meteorological agencies warn that Anambra, Delta, Cross River, Rivers and Bayelsa are still at the risk of experiencing floods up till end of November.
Analysts also advise state governments, local governments and communities to evacuate people living on plains to high grounds, provide tents and relief materials, fresh water and medical supplies.
More investment in flood management has become very necessary, a journalist, Mrs Agatha Ukwo, says, urging state governments to take greater responsibility in addressing the issue.
The UN is disturbed that the flooding will worsen food insecurity and malnutrition situation in Nigeria.
"More than 440,000 hectares of farmland have been partially or totally damaged at a time when more than 19 million people across Nigeria are facing severe food insecurity,'' its spokesman Stephane Dujarric told a news conference in New York.
The UN is worried that cereal production will likely decline by 3.4 per cent compared to 2021 due to flooding, high agriculture production costs and insecurity.
"We, along with our humanitarian partners, are supporting the government with assessments and response, notably in Borno, Adamawa, and Yobe states, as well as in other impacted parts of Nigeria,'' the global body, however, assures Nigeria.
Also concerned, the International Human Rights Commission calls on the global community to assist Nigeria in reducing the impact of the flooding, which its Ambassador at Large and Head of Diplomatic Mission in Nigeria, Dr Duru Hezekiah, describes as Nigeria's worst flood disaster in a decade.
Hezekiah urges federal, state and local governments to share the responsibility for protecting the citizens from disasters and helping them to recover from them.
"In these cases, however, the disaster requires a more comprehensive approach – disaster relief and emergency assistance void of political, ethnic and religious discrimination, to effectively support state and local governments and their citizens,'' he urges.
The National Emergency Management Agency (NEMA) blames the level of the crisis on neglect of its warnings by residents of flood-prone areas.
According to the Minna Operations Office of NEMA, many communities affected along the tributaries of River Niger did not pay attention to early flood warnings.
Zainab Saidu, Head of Minna Operation Office of NEMA, emphasises that the warnings are contained in the Seasonal Climate Prediction (SCP) by (NiMet) and the AFO by Nigeria Hydrological Services Agency.
Saidu urges Nigerians' adherence to SCP and AFO.
"This call becomes very important to avoid a re-occurrence of the heavy 2022 flood that ravaged and inundated several communities across the states,'' she says.
She appeals to journalists to take dissemination of early warning information on disasters as a social responsibility, saying that disaster management is a humanitarian activity that needs all hands to be on deck.
As a strategy to overcome flooding in Nigeria, President Muhammadu Buhari has directed the Minister of Water Resources to lead and coordinate with the Federal Ministries of Environment and Transportation, as well as state governments, to develop a comprehensive plan of action for preventing flood disaster in country.
The plan should be presented to the president in 90 days, according to a statement by presidential spokesman, Malam Garba Shehu.
Also, during a meeting with the leadership of the Nigeria Governors' Forum on the flooding earlier, the president promised that the Federal Government would "see what to do" after a report "is sent in" on the flooding.
Gov. Aminu Tambuwal of Sokoto, on his part, says the flooding has created a frightening scenario for food security.
Expressing hope of Nigeria's ability to tackle flooding, the Society of Landscape Architects of Nigeria (SLAN) is convinced that the disaster can be prevented if basic architecture techniques are adopted in landscape planning and building engineering.
According to the President of SLAN, Mr Amos Alao, the association is willing to offer services to mitigate the impact of the natural disaster.
Alao says SLAN is committed to changing the narrative of the adverse effects of climate change, including flooding.
"We are of the opinion that we can change the narrative using landscape techniques and nature-based solutions to solve environmental challenges and mitigate the adverse impacts of climate change."
He calls for collaborations.
"We can discuss with governments and relevant stakeholders to solve periodic problems of climate change with sustainable solutions," Alao says.
He suggests changing landscape from grey (concrete-based) to green as a strategy to ameliorate most climate change effects and reduce flooding situation across the country.
"While we are aware that we cannot halt the rains, we can ensure our cities handle water management efficiently and have better flood preparedness policies using nature-based solutions and green infrastructure.''
He is convinced that climate change played a role in the flooding.
According to him, rising global temperatures have increased evaporation in the atmosphere, leading to high precipitation conditions in the affected areas.
"SLAN hopes that with the help of public-private partnerships, we can begin to implement the 'sponge city' approach in states such as Kogi, Niger, Benue and Delta," Alao says.
To guard against waterborne diseases due to the flooding, Mr Henry Idama, Director-General, Delta State Water Sector Regulatory Commission, calls for testing of sources of water schemes to ensure that only safe water is consumed.
"At this time of flooding, the flow of water in the soil is now in reverse, and this is not good, as the source of the reversed flow is polluted.
"The rainy season has raised the water level and caused mixture of clean and polluted water which people may consume unknowingly,'' he warns.
A health worker, Mrs Kate Nnakwe, also warns that water bodies, both surface and underground which include wells and streams, have been compromised by the flooding.
"There is a risk of waterborne diseases. The affected communities need good toilets, water and healthcare.''
Analysts urge more timely actions and collaborations to reduce the impact of the natural disaster and prevent more communities and farmlands from being submerged, as well as avert waterborne diseases.
By Ijeoma Popoola, News Agency of Nigeria (NAN)