Successive governments have formulated and implemented policies to develop the Nigerian economy, with the present administration determined to do more by diversifying from oil and fighting corruption.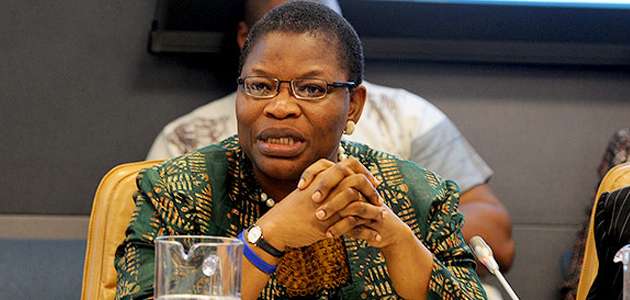 However, closing the gap in men and women contributions to economic growth has yet to be adequately exploited as a strategy to develop the economy and alleviate poverty.
According to the Global Gender Gap Report, 2017, released by the World Economic Forum (WEF), Nigeria is the 122nd out of 144 countries in closing gender gap.
The report ranked gender-based disparities in different countries particularly in the areas of economic participation, education, health and survival, and political empowerment.
The rankings are designed to create global awareness to challenges posed by gender gap and to highlight opportunities in reducing the gap," according to WEF.
A former Minister of Education, Dr Oby Ezekwesili, comments on Nigeria's position.
" Nigeria is 122nd out of 144 on Global Gender Gap Report, 2017. This is poor. We must do better from now.
"Part of Rwanda's sustained strong economic performance over last 15 years is traceable to the inspiring way it has bridged gender gap.
"We have to prepare ourselves rapidly for post-oil Nigeria, and the best way is to empower all our girls and women and unleash their talents,'' she adds.
Ezekwesili explains that gender parity is about making the woman the best she can be.
Dr Adesina Fagbenro, a former Regional Coordinator of Department for International Development, South-West, cautions that no country can prosper economically if half of its citizens are left behind.
According to him, women participation is fundamental to inclusive governance without which good governance and economic development are not possible.
" If government is to meet the needs of both men and women, it must build on the experiences of both genders. Such equality can grow our economy and reduce poverty, "he says.
Dr Omobola Johnson, a former Minister of Communications Technology and Chairperson, Alliance for Affordable Internet, calls for equal opportunities within the workforce to help women to reach the peak of their careers and contribute much to national development.
She wants corporate organisations and civil societies to support and empower women for nation-building.
"Providing equal opportunities within the workforce will accelerate a woman's career. Organisations should create a flexible environment for women to contribute effectively at work while having time for the family.
"We need to ensure more female representation at the top in the private and public sectors by eliminating barriers against women working in certain sectors or occupations to increase output."
A real estate investor, Mrs Udo Okonjo, regrets that Nigeria loses much in gross domestic product due to lack of gender inclusiveness.
Okonjo is convinced that women are naturally endowed with strength for multi-tasks and entrepreneurship to bring about employment creation, economic development, domestic savings and social and political stability.
"Greater management of household resources by women, either through their own earnings or cash transfers, shows that if given opportunities to occupy top positions, they can enhance growth by spending in ways that benefit the society,'' she argues.
In her views, Mrs Amina Oyagbola, Founder, Women in Successful Careers (WISCAR), says educating, mentoring and empowering women have proven to be a catalyst for rapid socio-economic growth across the world.
According to Oyagbola, societies where women are repressed are among the most backward.
"Nigeria seems to be somewhere in-between.''
She claims that women in Nigeria make up 49 per cent of the total population but lacked opportunities to realise their potential and contribute to economic growth.
According to her, this is a waste of human capital and a barrier to economic progress.
"This is a dangerous state of affairs for any society.
"Women are valuable role models, agents of positive cultural and policy changes. If we can harness these attributes effectively, Nigeria's growth can be more inclusive and equitable. Education of women is therefore key.
"This is why WISCAR, via its mentoring programme, is helping to equip several professional women with relevant skills and competencies to effectively manage their careers, assume leadership positions and contribute to nation-building. "
Mrs Bisi Adeleye-Fayemi, Wife of former Gov. Kayode Fayemi of Ekiti, says that promotion of women's economic rights is critical to economic growth.
According to her, these rights entail sexual and reproductive rights and rights to education, mobility and ownership, as well as right to live free from violence.
She identifies early and forced marriage as factors limiting young women's engagement in educational and economic activities.
"Threats to women's rights include those posed by culture, religion and tradition, as well as processes of globalisation and economic change.
"Right gained is not right maintained, unless there is constant monitoring of rights,'' she argues.
Adeleye-Fayemi suggests strengthening of women's access to both formal and informal justice systems, adding that the systems should advance equal rights, opportunities and participation.
"There is a need to create full and decent productive employment opportunities for women and access to finance, as well as provision of social protection. "
The Chief Executive Officer of the Nigerian Economic Summit Group, Mr Jaiyeola Olaoye, also emphasises that women contribution is important for the growth of any economy.
"Investment in the health and education of women and girls are the way forward.
" The logic is that educated, healthy women are more able to engage in productive activities, find formal sector employment and earn higher incomes than uneducated women.
"Educated women are more likely to invest in the education of their own children and are likely to have fewer children.
"Thus, investment in human capital has positive short and long term outcomes; it is good for productivity gains.
"Attention should be focused on equal access to education, " he advises.
Mrs Clare Omatseye, the Director of Society for Corporate Governance, suggests that gender equality and inclusiveness should be given a priority attention in the public and private sectors.
"As Nigeria pursues various economic development plans including the Millennium Development Strategy Vision 2020, a core part of the national strategy must be to invest more in women empowerment.
" Nigeria and Africa as a whole must invest in women. The economic future depends on it.
"Give women the opportunity to grow. Don't view them as threats but as partners in progress, she urges.
Analysts call on the three tiers of the Nigerian Government to adequately empower women and girls so they can be partners in the efforts for the country's economic success.
Analysts also urge women to make conscious efforts to get into leadership positions and make positive impacts that will inspire others.
By Lucy Osuizigbo, News Agency of Nigeria (NAN)