The President, Green Business Committee of the SK Group, Mr Jun Kim, has called for an active participation of the private sector in the ongoing global response to climate change.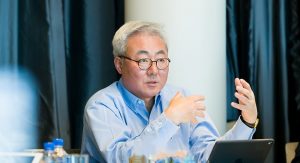 The group's president made the call during a dialogue on building green, healthy and resilient future with forests at the 15th World Forestry Congress in Seoul, South Korea on Monday.
SK Group, an intermediate holding company with headquarters in Seoul, engages in petroleum, alternative energy and oil exploration.
Kim, also the Vice President and Chief Executive Officer, SK Innovation, noted that there was a limit to what government alone could do to achieve the zero net goal.
According to him, the zero net goal means cutting of greenhouse gas emissions to as close as zero by 2050.
He said that achieving the net zero target by 2050 would require corporate sector conducting risk management on regulations established by government.
"If we take a look at the action of government, it is mostly related to regulations; but we need to go beyond regulations.
"We need to ensure that government facilitates the activities of the private sector through incentives.
"I believe that incentives will be the most effective tool.
"From the corporate side, we have to conduct risk management concerning regulations. We need to take step beyond that,'' he said.
The business mogul further said that there was the need to ensure that the people became proactive in responding to climate change for the survival of companies.
"We need to have change in mindset and only when there is change in mindset that we can have change in action.
"If we have the recognition to be proactive in climate change, then we can come out with bold goals beyond what is necessitated by regulations.
"If we have the bold goals, then we will make efforts to find positive solutions.
"If we take a look at some technical breakthrough, we can see a speed of breakthrough has become much faster and we can also accelerate the shift with eco-friendly portfolios.
"From the years back, I do believe that we need a change in mindset on the part of corporate sector," he said.
Kim said that all companies in the SK group had in June 2021 declared a goal of net zero before 2050, with some even declaring a bold goal of achieving it by 2030.
The group, he said, achieved 200 billion tonnes of carbon dioxide emission reduction, one per cent of the total net zero goal by 2050, within a month of setting the goal.
"In order to realise this ambitious goal, we will not only work on technical breakthrough but the whole group will be shifting to become green," Kim added.
By Usman Aliyu