Corporate climate action is crucial to help governments achieve their central objective under the Paris Climate Change Agreement, which is to limit the global average temperature rise to as close as possible to 1.5 degrees Celsius.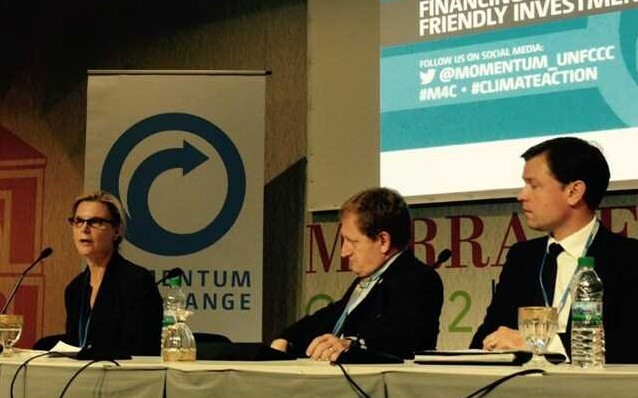 Microsoft has developed what is considered a trail-blazing emission reduction scheme which is exemplary for other companies. The innovation was showcased at the UN Climate Change Conference (COP22) in Marrakech, Morocco last November.
The company is a Momentum for Change Lighthouse Activity award winner for its carbon programme to reduce carbon emissions, and country delegates at COP22 had the opportunity to learn about the Microsoft internal carbon fee and how other companies and organisations could adopt its model to help reduce the emissions necessary for countries to achieve their "NDCs".
NDCs are "Nationally Determined Contributions" – national climate action plans under the Paris Agreement that cover both reducing greenhouse gas emissions and building resilience to the inevitable impacts of climate change.
Since implementing its carbon fee in July 2012, Microsoft has reduced its emissions by more than 9 million metric tons of carbon dioxide equivalent (mtCO2e), invested in more than 14 million megawatt-hours (MWh) of green power, and has had a positive impact on more than 7 million people through carbon offset community project investments.
As TJ DiCaprio, Senior Director of Environmental Sustainability at Microsoft and the chief architect behind the company's carbon fee, explains, "The fee has helped establish a culture of sustainability in our company: sustainability is now an expectation of our leadership for how we operate our datacenters and facilities."
Microsoft introduced its carbon fee when it made a company-wide commitment to operate in a net carbon neutral way. The fee holds Microsoft internal business groups financially accountable for the carbon emissions associated with their operations. Through the fee, Microsoft generates the funds to pay for the cost of carbon neutrality. In addition, the fee is the tool by which the company works towards four desired outcomes, or goals, of its carbon programme, which is to:
Internalise the external cost of emissions, by making the company's carbon impact understandable in business language.
Transform the culture of the company, by establishing an expectation for environmental and climate responsibility.
Catalyse and accelerate climate-neutral innovation, by investing carbon fee funds into internal and external climate-neutral projects.
Support the transition to a low-carbon economy, by prioritising investments that empower communities globally in the response to climate change.
Using these outcomes as a guide, Microsoft invests its carbon fee fund through four categories. First, the company dedicates a significant portion to renewable energy, helping to expand the renewable energy market worldwide. Second, it invests in carbon offset community projects – in particular in the areas where it operates data centres – to offset its emissions while supporting sustainable development. Third, it uses the fund to drive internal and external climate-related energy and technology innovation through a programme of Climate Grants. And finally, the company sets aside a portion for "track-and-report" projects, helping to ensure transparency and accountability through its carbon programme.
Microsoft designed its carbon fee model to be simple and easy for other organisations to replicate. The company has published several white papers describing its goals and providing detailed guidance for other organisations interested in using the model. Ms. DiCaprio has also participated in numerous speaking engagements and forums – including four sessions at COP22 – to share the company's best practices.
"At Microsoft, we are committed to taking significant action to tackle climate change," said Ms. DiCaprio. "We do this in part by carefully investing our carbon fee fund into carbon-neutral projects that will accelerate energy and technology innovation. We also do it by operating carbon neutral and running our business as efficiently as possible. And we do it by sharing the lessons we have learned over the years to help others benefit from our experience."