In support of an ongoing commitment to save the world's most endangered species, Discovery Communications and the U.S. Wildlife Trafficking Alliance in conjunction with the U.S. Fish and Wildlife Service (USFWS) announced on Wednesday in Johannesburg, South Africa at the Convention on International Trade in Endangered Species of Wild Fauna and Flora (CITES) summit a multiplatform campaign to raise awareness and reduce demand for illegally sold animal products.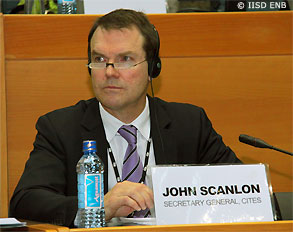 U.S. Fish and Wildlife Director Dan Ashe, U.S. Embassy Charge d'Affaires Jessica Lapenn, CITES Secretary-General John Scanlon, Acting Assistant Secretary Ambassador Judith G. Garber, and Discovery Communications Vice President of Brand and Content, Discovery Networks Central & Eastern Europe, Middle East and Africa, Lee Hobbs revealed on Wednesday an originally created public service announcement narrated by actor Edward Norton encouraging individuals to take action and stop illegal trade and purchase of animal products around the world (The PSA is available at http://APO.af/zAOFvf). This PSA will air on Discovery's channels in the U.S. next month and locally customised versions will roll out on Discovery's global networks shortly thereafter.
"Engaging the private sector to help address wildlife trafficking is critical to government efforts," said Dan Ashe, Director of USFWS. "Finding a way to excite and inspire people about the natural world around them is of the utmost importance for the future of our planet. This public-private partnership with Discovery is a key step in our fight against illegal wildlife trade."
During the 10 days of the conference, Discovery Communications is featuring a dual-screen Digital Walkway at the entrance to the exhibition hall. Discovery Communications also will bolster its efforts to support the protection of wildlife and habitats by supporting the United Nations' Wild for Life campaign at CITES.
At its conference booth, Discovery will ask attendees to sign the U.N. Wild for Life pledge and will then photograph attendees and morph their picture with one of eight kindred species: tiger, elephant, helmeted hornbill, orangutan, pangolin, rhino, sea turtle or rosewood. Attendees can get a print and digital version of this rendering to post to social media under the #WildForLife hashtag.
"For more than 30 years, Discovery Communications has been committed to exploring and protecting our planet and shining a light on the world's most fascinating creatures. We are proud to engage participants and partners at CITES and to support the important work that the Fish and Wildlife Service does as part of the Department of Interior," said David Zaslav, President and CEO of Discovery Communications. "Discovery is a purpose-driven company and saving endangered species is rooted in our DNA. We are honoured to lend our creative capabilities and global platforms to this compelling cause, ensuring that we can continue to tell the stories of our world's most iconic species for years to come."
"Discovery Communications supports all efforts stemming the illegal trade of endangered species products to support species preservation, including here in Africa," said Discovery Communications Vice President of Brand and Content Lee Hobbs. "We are proud to be at CITES with so many globally minded and impactful dignitaries and advocacy groups who are leading these efforts. We support their work wholeheartedly."