The recurrent Fulani herdsmen attack on Benue communities may soon be a thing of the past as the State House of Assembly on Thursday, May 4, 2017 passed into law a bill outlawing open grazing in the state.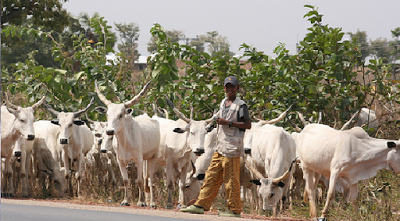 Cited as the Open Grazing Prohibition and Ranches Establishment Law, 2017, the bill which was passed after the House considered the report of the Committee on Agriculture and Natural Resources as presented by its Chairman, Mr James Grange (Kwande East/APC), in the Committee of the Whole Chaired by the Speaker, Mr Terkimbi Ikyange (Ushongo/APC), provides for the establishment of Ranches and Livestock Administration, Regulation and Control.
The bill, which provides that anyone who engage in Cattle Rustling shall be liable on conviction for imprisonment for a term of not less than three years or N100,000 per animal or both also provides that "no individual or group shall after the commencement of this law, engage in open nomadic livestock herding or grazing in the State outside the permitted Ranches".
Among other things, Section 19 (2) provides that "any person or group of persons who contravenes the above provision shall be guilty of an offence and shall, on conviction, be liable to five years imprisonment or N1 million fine or both".
The bill also provides for monetary compensation in case of any damage to a property and imprisonment of two years of the livestock owner or manager in case of injury to any person within the state.
According to the bill, "where such contravention causes the death of any person within the state, the owner or manager of such livestock shall be guilty of an offence of culpable homicide punishable under the Penal Code Law".
By Damian Daga, Makurdi