Data released by the CDP (formerly the Carbon Disclosure Project) on Monday shows that over 600 major international corporations with a combined market cap of $12 trillion are already starting to factor the Paris Agreement on climate change in their business plans before the major environmental legislation has become law.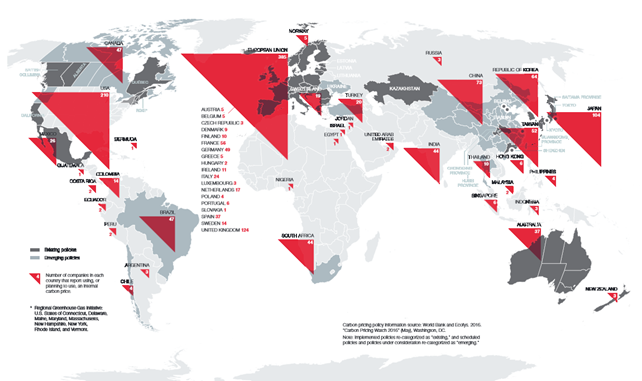 This year's CDP disclosures come against a backdrop of growing momentum to address global warming pollution by national and local governments, new drivers like China's impending carbon market, and the recent ratification of the Paris Agreement by the US, China and Brazil. Last year, the number of companies pricing their carbon emissions tripled, continuing a rise from just a handful in 2013.
A second CDP report, also published on Monday, finds that 40 major multi-national companies with a combined market cap of $1.5 trillion have disclosed a tangible impact to their business as a result of internalising a cost on carbon.
The companies describe a variety of ways in which this tool has directly shifted investments toward energy efficiency measures, low-carbon initiatives, energy purchases, and the development of new low-carbon product offerings.
Examples include:
Anglo American uses an internal carbon price to stimulate research and development into low carbon technologies such as fuel cells.
Novartis and SUEZ are selecting major GHG reduction projects and measures based on the cost savings they generate, as determined by their internal carbon price.
Societe Generale has saved EUR 13 million on overheads with a EUR10/tCO2e over three years.
DSM and Saint-Gobain are now pricing carbon internally to underscore strategic shifts towards low-carbon operations and products