In line with the campus-green initiative of the Vice-Chancellor, Professor Chinedum Nwajiuba, to make the Alex Ekwueme Federal University Ndufu-Alike (AE-FUNAI) in Ebonyi State the most beautiful and eco-friendly institution in Nigeria, the wife of the first President of Nigeria, Professor Uche Azikiwe, on Wednesday, April 25, 2018 joined other well-meaning Nigerians to plant a tree in the university, in support of the initiative.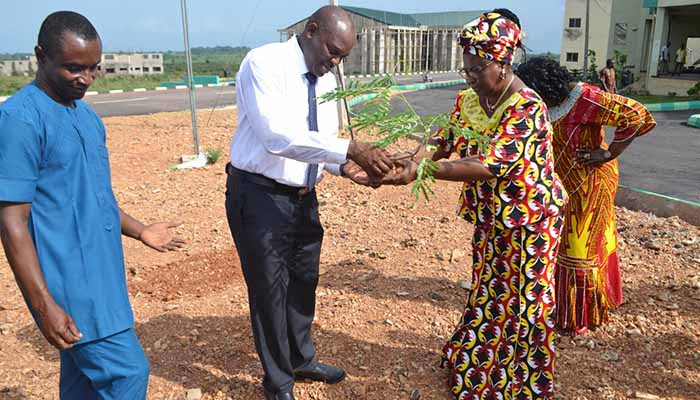 Azikiwe, a Professor of Sociology of Education, was at the university recently for the first Annual International Conference, hosted by the Faculty of Education of the university, where she also spared some time to support the campus-green initiative of the Vice-Chancellor.
Meanwhile, the Vice-Chancellor of Imo State University, Owerri, Professor Victoria Obasi, was also part of the tree planting campaign.  The professor of Curriculum Studies chaired the First Annual International Conference held recently at the university. She prayed that the tree, just like the university, would grow to provide shades, fruits and serene environment for generations to come.
With a policy termed "Campus-Green Initiative", the Vice-Chancellor, Professor Nwajiuba, had on assumption of office about two years ago embarked on aggressive tree planting campaign in the university to ensure eco-friendliness, aesthetics and serene environment within the campus. This led to the inauguration of the University Pioneer Garden and a yearly tree planting campaign where staff and students donate and plant trees around the university campus.