A not-for-profit outfit, the Developmental Association for Renewable Energy (DARE), has began training youths on collecting waste plastics in Kaduna metropolis, Kaduna State, for recycling.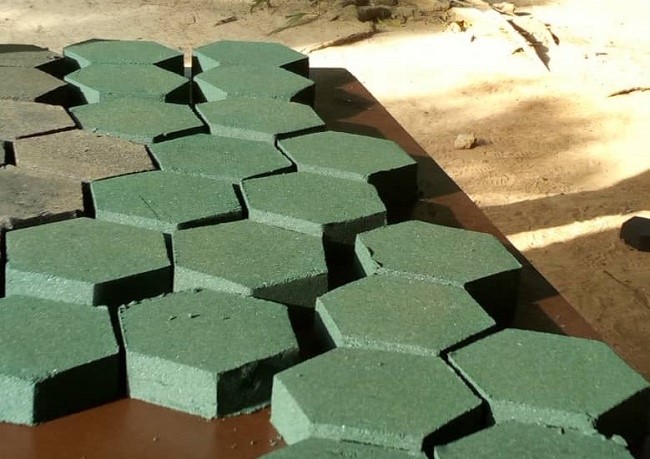 The recycling is aimed at using them for interlocking tiles, blocks, roofing tiles, and decorating houses, to protect the environment.
Chief Executive Officer of the organisation, Mr Yahaya Ahmed, said this in an interview with newsmen in Kaduna on Sunday, January 6, 2019.
Ahmed, an engineer, explained that the technology was the first of its kind in Nigeria and some parts of Africa.
"This tried-and-tested new technique of turning waste plastic into interlocking tiles, blocks and roofing tiles is a low-cost method that helps keep plastic wastes out of the environment completely.
"We have been working on the idea for a long time on how to recycle the waste plastics that are polluting the environment every day.
"We are in contact with our partner organisations in Germany and United Kingdom, but the real idea comes from Waste AID UK.
"We planned on having them in Nigeria for training our people, but things are not ready at that time, so they did the training in Cameroon and told us there are good people in Cameroon that can come to Nigeria and train other interested persons which is better for us," he said.
Ahmed pointed out that the waste plastic interlocking tiles is stronger and everlasting than the normal interlocking blocks that are sold in the market.
According to him, it will take hundreds of years to decomposes because the interlocking tiles are constructed with only plastic waste, adding that there is a market for the product.
He said the association wanted to train many Nigerians in the new technology to reduce unemployment, fight poverty and reduce idleness among the youth.
"This will create jobs, reduce street begging as many youths will engage in it, making them to become self-employed in the future.
"We are targeting training 1,000 unemployed youths including women and graduates from various institutions across the 36 states of Nigeria.
"We buy the plastics and measure it in kilos and pay in cash to waste collectors/scavengers.
"The waste plastics have detrimental impact on the community, environment, human health and even on agricultural land hence the need for our technology to recycle them and help Nigerians transform them into money.
"We have started training many interested persons, and we are hoping to see that those that receive the training will also train others so as to spread the idea and save our environment," he said.
He said their greatest challenge was how to get government to be involved in the programme and sustain it.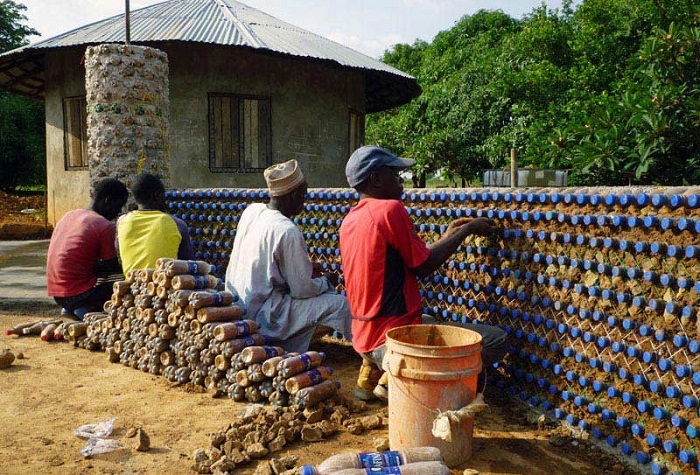 Ahmed was the engineer who constructed the first plastic bottled house in Africa that could last for over 200 years. The house is located at Yalwa Village, which is along the Kaduna-Zaria Road.
Responding, Mr Pierre Kamsouloum, the trainer and expert on recycling plastic from Cameroon, said it was interesting coming to Nigeria to train young people interested in learning the technology of transforming waste plastics to something important in the society.
"This idea started 12 years ago in my country Cameroon, in my town Garoua and, few years later, I joined other organisations to spread the message which involves travelling from one country to another.
"We are here in Nigeria to teach youths how to collect waste plastics from the trash centre, transform them into something that is useful for the construction of houses and other interior decoration.
"I train them on how to collect the waste plastic, wash it and dry-it before putting it into a big pot for melting while mixing it with sand that is extracted from the Kaduna River," he said.
Mallam Ahmed Dala, one of the youths receiving the training, expressed gratitude and satisfaction with the organisers.
Meanwhile the Assistant Director, African Climate Reporters, Dr Piman Hoffman, has applauded the efforts of the NGO and the International Waste Plastic Trainer from Cameroon.
Hoffman said Recycling was important in today's world if we wanted to leave the planet for our generations.
"Recycling your waste makes you more responsible in the way you use and dispose of it. It is evident from studies that people who do this instinctively cut down on buying unwanted things from the supermarket.
" When we recycle, recyclable materials are reprocessed into new products, and as a result the amount of rubbish sent for incineration reduces," he said.
He then called on Government, NGOs and CSOs to always support the spread of iniatives like this one.
By Hassana Yakubu