For about six years now, tradition and youthfulness have been cohabiting in some notable Yoruba kingdoms, and the result of this is visible civilisation within these environs. The practice, which commenced with the enthronement of Oba Saheed Ademola Elegushi (Kesenla III), was not without initial criticisms because no one would have thought that a 'youthful' mind capable of the vast intelligence and maturity that became manifest in the Elegushi's ability to continue to keep Ikateland together, and attract development to the kingdom.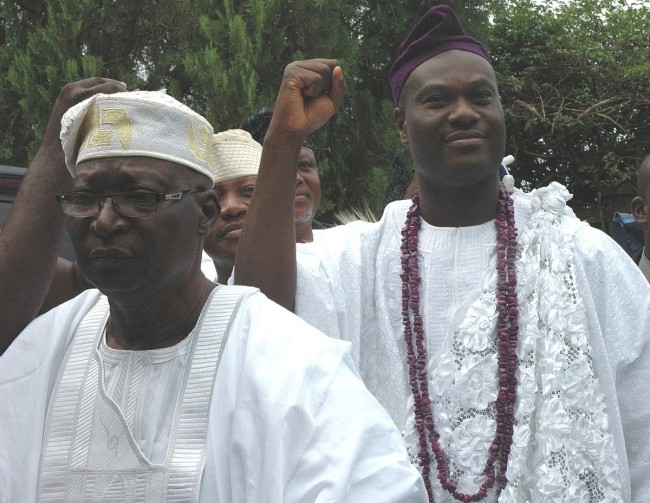 The enormous responsibilities of kingship is enough reason to inspire doubts about the aptitudes of new generation of Yoruba Kings to act as custodians of our traditions, and perhaps consider them unworthy of ascending the thrones of their forefathers.  Although time has come to establish as myopic, our thinking that youthfulness could rob these middle-aged kings of the capacity to provide appropriate leadership and exercise sound judgement. Our blinkered minds, predicated on deep-seated attachment to culture and tradition, have changed dramatically to embrace the freshness of youthfulness.
Like other people, I had thought that his Master's degree in Economics and extensive public service experience could not have sufficiently prepared him for a reign over three million people – a kingdom which is almost the size of Kuwait, although not as endowed, but as demographically diverse as Kuwait. It was natural to reason that 'Demola (Kabiyesi ooo!  Omo Iroko lawe. Omo Kusenla. Mi o r' Oba fin o, aroba fin, l'Oba n pa) might not fittingly glide into the expansive shoes of the former Elegushi, Oba Yekini Adeniyi Elegushi, his father whose influence cut across ethnic and religious barriers.
Alas! Oba Saheed Ademola Elegushi (Kusenla III) has demonstrated that youthfulness midwifes innovation. His reign over Ikateland has shown that Nigerian youths are ready for leadership responsibilities. As the mascot of his generation of Kings, Kusenla III's selfless and practical outlook is telling of the depth and resourcefulness of our generation of Nigerian youths. In realistic terms, the perceived risk of entrusting Ikateland, a historically significant town, into the hands of a 34-year-old man six years back, is now widely adjudged an advantage.
Ikateland would have lost the benefits of Oba Ademola Elegushi's mental agility to a cosmetic barrier mounted by age, but the progenitors of Ikateland would not renege on their covenant of development and progress. Accordingly, they made possible his ascension to their throne for activation of the age-long agreement of advancement and relevance cut with his predecessors.
Just as Oba Ademola Elegushi, fate singled-out youthful Adeyeye Enitan Ogunwusi for rulership of Ile-Ife as the Ooni. The new Ooni, a self-made and hardworking young man, is not just expected to steer the affairs of Ile-Ife as seamlessly as the enigmatic and stylish Oba Okunade Sijuade (Olubuse II), he also has a divine mandate to foster the unity of the Yoruba race.
Oba Adewusi's ascension to the supreme throne of Ooni comes with huge responsibilities. His tasks are herculean and compounded by some deep cultural issues with complicated age-long rivalry amongst Yoruba Kings. But in his 'youthful' wisdom, the Ojaja II from Giesi Ruling House has signalled the birth a new Yoruba race with his unscheduled visit to the Alafin of Oyo, Oba Lamidi Olayiwola Adeyemi on his 45th coronation anniversary. As the first Ooni to visit Oyo town since 1937, it is clear that the Arole Odua is a different kind of King and a man of great wisdom. Ooni Adeyeye is a youthful royal father gifted with the wisdom of King Solomon, like his royal brother, Oba Saheed Ademola Elegushi (Kesenla III).
Now, Ile-Ife will have more than heritage and Obafemi Awolowo University, my alma mater, as attractions. With the N7.2 billion estate and resort centre which will potentially employ 5,000 indigenes and empower 20,000 widows, Ooni Adeyeye Enitan Ogunwusi is turning my late mother's hometown into a major tourist attraction.  Should I ask if you perceive the socio-economic development championed by these young Kings? Okay, wait till Oba Saheed Ademola Elegushi unfolds his transformational plans for Ikateland in the coming months!
Iwo town is the new centre of youth empowerment. The newly installed Oluwo of Iwo, His Royal Majesty, Oba Rasheed Adewale Akanbi is another man from this generation of youths who signposts our collective vision to take Nigeria to the next level.  After his coronation, the Oluwo of Iwo, Oba Akanbi (Ilufemiloye Telu1), announced that his reign would take Iwo to the "Promised Land", and his subjects understood that the ancient town of Iwo has commenced a journey to renaissance.
This theme vibrates across the land because it is the song on the lips of every Nigerian youth. We need to involve youths more in governance and social administration for better results. Now is the time to take advantage of youthfulness for national growth, economic development and better infrastructure. The energy, resources and knowledge to take Nigeria out of doldrums abound in this generation of youths.
The soothing wind of transformation is blowing across the land. Even though the esteemed throne of Olubadan might not immediately be available for manning by a middle-aged man because of the town's unique traditional system of governance. The route to the throne is hierarchical ascension from two lineages (Egbe Agba and Egbe Balogun) through alternating system and each lineage has 23 positions before the throne.
From the records, it takes between 38 and 40 years, for a Mogaji (the next-in-line to the Olubadan) to become an Olubadan, and progression to Mogaji also takes about 40 years too. Therefore, the probability of a young man being King over Ibadan is slim. However, with Chief Abiodun Kola Daisi, the Ekarun Olubadan, rumoured ceding of his position to one of his sons who is a little over 40, Ibadan might just be getting ready for an unusually young Olubadan. This indicates belief in the capacity of this generation of youths to lead transformation, and champion developmental initiatives.
The young Elegushi of Ikateland, Oba Saheed Ademola Elegushi (Kusenla III), has proven through his conducts that youthfulness is an ingredient of social development. Thereafter, Arole Odua, Adeyeye Enitan Ogunwusi, the Ooni of Ife, showed the world that this generation is about peace, progress and unity, just within that frame, the Oluwo of Iwo, Oba Rasheed Adewale Akanbi, amplified the aspiration of every Nigerian youth to turn Nigeria into the promised land.
Except we want to shy away from the truth, culture is more delicate and complex than governance, and youths are acting as better custodians and harbingers of our traditions. I reckon that for Nigeria to record the long-sought transformation that will bring happiness to every citizen, youth empowerment and involvement in social administration, might just be the key.
 By Olusola Mathew Fafure (youth empowerment advocate. Based in Lagos, he can be reached via omf4us@gmail.com)