Ten African youth entrepreneurs, including three Nigerians, will receive as much as $100,000 each to scale up their businesses.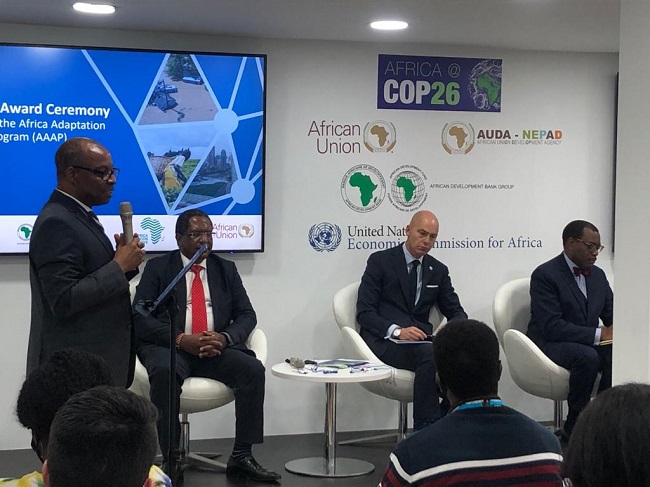 The announcement was made on Friday, November 5, 2021 by Anthony Nyong, Director of Climate Change and Green Growth, African Development Bank (AfDB), during a side event at the ongoing United National Climate Change Conference (COP26) in Glasgow, Scotland.
Launched on September 6, 2021, the Youth Adaptation Solutions (YouthADAPT) Challenge will be an annual competition jointly organised by the Global Centre on Adaptation (GCA) and the AfDB, as part of the Africa Adaptation Acceleration Programme (AAAP).
The YouthADAPT Solutions Challenge aims to strengthen inclusive growth, and broaden investment and economic opportunities for youth and women in Africa by awarding winners business grants of up to $100,000 each and the opportunity to participate in a 12-month business accelerator programme to help them scale up their businesses, deepen their impact and create decent jobs.
The call invited young entrepreneurs, innovators from micro, small and medium-sized enterprises (MSMES) and other youth and women owned enterprises in Africa. to implement solutions for building resilience and adapting to the adverse impacts of climate change.
Young entrepreneurs between the ages of 18 and 35 were invited to respond to the call for the expression of interest and submit their business plan through the official submission portal.
The winners were selected from a pool of over 2,010 entrepreneurs (1501 male, 509 female) from 46 countries who presented pioneering businesses aimed at accelerating adaptation action across the continent.
The winning enterprises provide climate adaptation and resilience solutions to their communities, in critical social and economic sectors which are affected by climate change. Some of these solutions include agriculture, waste management, water sanitation and renewable energy.
From Nigeria, the winning enterprises were Salubata Technological Innovation Limited led by Yewande Adebowale and Akinse Olajide; Simkay Green Global Ventures, led by Rejoice Amarachi Usim; and Soupah Farm-en Market Limited, led by Ifeoluwa Olatayo.
Salubata collects and uses plastic waste to make customised shoes. The company also commits 5% of the profits to the cause of empowering women in local communities.
On the other hand, Simkay levearages 'vertical sack farming: a low-cost technology for planting crops enabling farmers to grow large numbers of crops in relatively small spaces through vertical planting.
Soupah, on its part, revolutionises the way fresh food is grown and distributed and cuts down the amount of fossil fuel by localising production, through rooftop farming.
Others included Miama General Dealers Limited in Zambia, an enterprise that produces hydroponic millet fodders farmers to feed their livestock, and works with 1,250 farmers through co-operative society.
Bleaglee Waste Management Limited in Cameroon uses drone technology to tackle challenge of poor waste disposal, that has been the major cause of flooding due to clogging most Western parts of Cameroon.
Kimplanter Seedling and Nurseries Limited, Kenya enhances food security by propagating drought resistant seedlings at affordable prices and helps farmers improve productive despite the harsh climatic conditions and works predominantly with youth and women.
Irri Hub Ke Limited, Kenya supplies and installs climate-smart irrigation technology including drip irrigation options, eco-friendly water harvesting options, mulching technology, and far planning services.
Mumita Holdings Limited, Cameroon produces African Indigenous Vegetables using greenhouse technologies and implements irrigational systems supporting year-round production.
Sustainable Builders, Zambia supports the development of conducive environments farmer behaviour change towards a more diverse range of production options in order to drive output and productivity as regards critical food security issues.
Global Farms and Trading Company Limited, Ghana leverages conservation agriculture among smallholder farmers to increase food security, alleviate poverty, conserve biodiversity and safeguard ecosystem services.
The winning businesses will receive grants of up to $100,000 each and the opportunity to participate in a 12-month business accelerator programme to help them scale up their businesses, deepen their impact and create decent jobs.
By Seyifunmi Adebote, Glasgow, Scotland