The IITA Youth Agripreneurs (IYA) is recognised as one of the pioneer models for youth engagement in the agriculture sector. Since its inception in 2012, IYA has led several initiatives involving the young and old in providing jobs and ensuring food sustainability.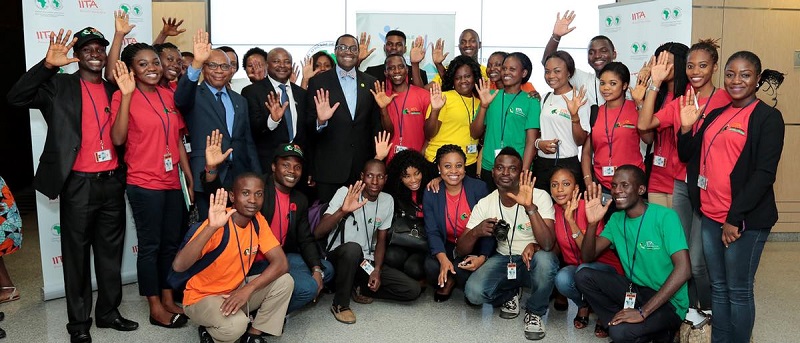 As the world celebrates International Youth Day (IYD) on Friday, August 12, 2022, IYA acknowledges the importance of the critical roles of people across generations in achieving a sustainable future for the youth.
Tracing the history of IYA, the role and effort of inclusive generations in the growth of the unit cannot be over-emphasised. The "Agripreneur" initiative of IITA started with less than 50 youth on IITA Campus in Ibadan, Nigeria. It has blossomed, with thousands of young people across Africa benefiting from the program. Many of the programme's beneficiaries now manage their farms, while others have chosen other vocations within the agriculture space.
This success can be attributed to the support of the old and young generations who have served as financiers, mentors, and technical experts to IYA.
In commemorating International Youth Day 2022, IYA recognises the support of its mentors that has birthed and strengthened the African youth agripreneur movement. Notable ones amongst them are:
Dr Nteranya Sanginga, IITA Director General, internationally acclaimed to be the father of agripreneurs in Africa, instituted the IITA Youth in Agribusiness office in 2012. He inspires youth leadership across board and provides continuous mentorship, leadership and support for youth agripreneurs across Africa.
Dr Akinwumi Adesina, President of the African Development Bank (AfDB), throws his weight behind agripreneurs through programmes and investments that target youth groups. He always charges the older generation to embrace younger people in implementing the needed economic and financial change. The Agripreneur building in IITA is named after him to recognise his passion for youth empowerment.
Dr Kanayo Nwanze, Former President of the International Fund for Agricultural Development (IFAD), has provided strong mentorship and guidance to IYA since the beginning of the agripreneur movement.
The IYA model proves that with the appropriate institutional support, an enabling environment and mentorship, young people can make a meaningful impact on the agri-food system. Clearly, an opportunity exists for directing African youth toward agribusiness for profound societal and economic benefit.
On this International Youth Day, IYA affirms that for Africa to feed itself sustainably, action is needed across all generations to achieve a thriving agriculture and agribusiness sector. We must leverage the potentials of all generations, but for sustainability, we must stand solid behind the youth who will continue the course.
We envisage IYA as providing leadership and services to young agripreneurs across Africa, developing collaborative programmes that advance youth agribusiness skills, and improving agribusiness opportunities and youth's creditworthiness.
The next critical step for all developmental organisations and governments of Africa is to develop a comprehensive programme such as IYA that forges widespread commitment and partnership, effectively combining these approaches and delivering cost-effective opportunities to youth for profitable agribusiness development.
By Dolapo Ogunsola, IITA Ibadan