Switzerland on Wednesday inaugurated Gotthard Base Tunnel, staging a massive celebration to honour the longest and deepest railway tunnel in the world. Leaders of France, Italy and Germany attended the opening ceremony.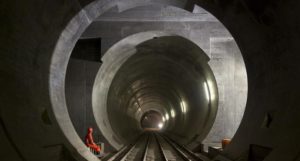 Swiss President Johann Schneider-Ammann described the tunnel as a "once-in-a-century" feat at the ceremony.
"Epic achievements are still possible in Switzerland and in Europe," he added, before the first two trains entered the 57-kilometer-long (35-mile) underground passage.
Some 600 artists performed at the opening ceremony, featuring musical bands, clowns, acrobats, masked actors and a tunnel theme song. The government also staged a lottery with 130,000 participants, awarding train tickets for the inaugural trip to 500 people.
Among the passengers were German Chancellor Angela Merkel, French President Francois Hollande and Italian Prime Minister Matteo Renzi, taking a 20-minute trip between Swiss towns Uri and Bodio.
Merkel lauded the work of Swiss engineers and said the tunnel was a symbol of the connectedness of people in Europe. "We have a lot of discussion in the Schengen zone – also because of the refugees – on how we can preserve the freedom of movement within Europe," the chancellor said.
The tunnel "would connect people and cultures and strengthen connections. I think that is wonderful," she added.
'Conquering' the Alps
The Gotthard Base Tunnel breaks several records – it not only the longest, but also the deepest tunnel in the world, passing 2.3 kilometres (1.5 miles) bellow a mountain peak. The depth is comparable to some of the deepest mines on Earth and temperatures can reach 46 degrees Celsius (115 Fahrenheit).
During 17 years of construction, workers had to move over 28 million tons of rock from the inside of the mountain massif. It was completed about a year ahead of schedule, on a budget 12.2 billion Swiss francs ($12.2 billion, 11.0 billion euro).
"It is just part of the Swiss identity," said Swiss Transport Director Peter Fueglistaler. "For us, conquering the Alps is like the Dutch exploring the oceans."
Shortcut across Europe
The project received financial and engineering support from around the European Union, as the tunnel cutting through the Swiss Alps gives a major boost to trains traveling across Europe. It is also praised for its environmental impact – the improved railway line should get 600,000 trucks off the road every year, with goods loaded to freight trains instead.
Germany already invested 2 billion euros ($2.2 billion) to expand the railway line in the Rhine valley, aiming to increase cargo traffic through the new tunnel. Berlin also earmarked an additional 6.5 billion euros for the project, German Transport Minister Alexander Dobrindt said in Switzerland on Wednesday.
Authorities intend to conduct additional 3,000 tests in the Gotthard base tunnel before opening it to normal operation in December this year.