Two students from the USA, Ryan Thorpe and Rachel Chang, received the 2017 Stockholm Junior Water Prize on Tuesday, August 29, 2017 for their novel approach to detect and purify water contaminated with Shigella, E. coli, Salmonella, and Cholera. H.R.H. Crown Princess Victoria of Sweden presented the prize at an award ceremony during World Water Week in Stockholm, Sweden.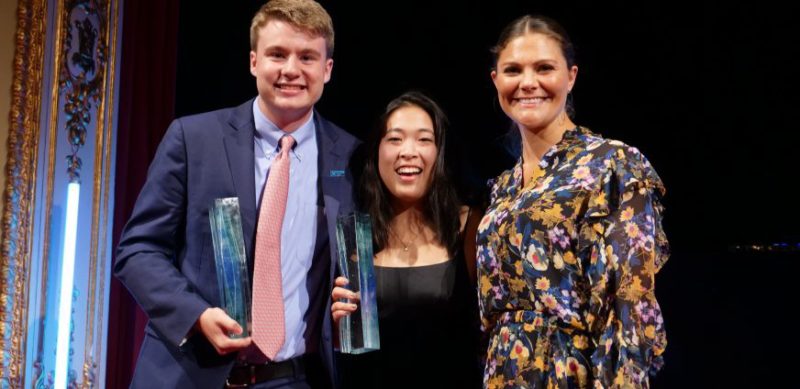 Similarly, Professor Stephen McCaffrey received the 2017 Stockholm Water Prize on Wednesday, August 30, 2017 for his unparalleled contribution to the evolution and progressive realisation of international water law. The prize was presented to Stephen McCaffrey by H.M. Carl XVI Gustaf, King of Sweden, at a ceremony in Stockholm City Hall during the ongoing World Water Week.
In its citation, the Stockholm Water Prize Nominating Committee recognised Professor McCaffrey's "path-breaking leadership and legal scholarship in international water law. He has made a unique contribution in three specific areas: his seminal work on Treaty negotiation; his major scholarly works, including his book The Law of International Watercourses and; his leadership providing expert legal advice, wise counsel, training and facilitation of complex negotiations with a wide range of stakeholders."
On receiving the Prize, Professor McCaffrey said: "I accept this very special award not only on my own behalf, but also on the behalf of the many women and men who work so hard in the field to ensure that fresh water can be brought to people in ways that do not strain international relations, but which in fact affirmatively produce win-win solutions for countries and people on the ground in accordance with law".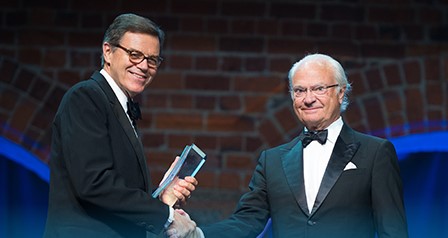 As Ryan Thorpe and Rachel Chang received the prize, Chang said: "I'm feeling so overwhelmed with emotions. All the projects here are absolutely amazing, truly of the highest quality. So, to be able to win such an achievement, it feels incredible".
In its citation, the Jury said: "This year's winning project embodies the fundamental principle of providing safe drinking water. The winner's motivation is to eliminate millions of human deaths each year. The project developed a unique, rapid, and sensitive method to identify, quantify and control water contaminants."
The students constructed a system that detects and purifies water contaminated with Shigella, E. coli, Salmonella, and Cholera more rapidly and sensitively than conventional methods. Their system detects as little as one reproductive bacteria colony per litre instantaneously and eliminates bacterial presence in approximately ten seconds. In contrast, conventional methods have detection limits of up to 1000 colonies and take one to two days. The students' novel approach could prevent the contraction and outbreak of waterborne diseases and expand potable water throughout the world.
The Jury was impressed by the winners, in particular their "exceptional intelligence, enthusiasm and true passion for water and human health."
"This method is applicable to both developed and developing world. The winning project has used fundamental science in an elegant way to address pathogenic bacteria in drinking water. The project has the potential to revolutionise the future of water quality," the Jury said further.
"This is a very inspiring project that takes on one of the world's biggest challenges, providing clean drinking water for all. Methods like these can unlock huge human potential, when access to safe drinking water, and by extension health, improves among hundreds of millions of people," said Torgny Holmgren, Executive Director of SIWI.
The Stockholm Junior Water Prize competition brings together the world's brightest young scientists to encourage their continued interest in water and the environment. This year, thousands of participants in countries all over the globe joined national competitions for the chance to represent their nation at the international final held during the World Water Week in Stockholm. Teams from 33 countries competed in the 2017 finals.
A Diploma of Excellence was awarded to the students Aniruddah Chowdhury, Arnab Chakraborty, and Rituraj Das Gupta from Bangladesh. Their project researched more efficient ways to remove dyes from textile industry discharges, using a composite of titanium dioxide and cheap, locally sourced chemicals.
"By innovative use of existing technology they show new possibilities to cost effectively and efficiently treat harmful waste water from textile industry," the Jury said.
Stephen McCaffrey, Distinguished Professor of Law at the University of the Pacific, McGeorge School of Law, in Sacramento, California, is the single most respected authority on International Water Law. His work continues to influence scholars, legal practitioners and policy-makers and contribute to the sustainable and peaceful management of shared waters.
Dr Letitia Obeng, Member of the Stockholm Water Prize Nominating Committee, said: "Professor McCaffrey is an internationally respected pioneer in water law and in diplomacy. Today's international lawyers stand on his shoulders".
Water flows where it will and has no regard for national or regionally drawn boundaries. Beneficial hydrological, social, and economic linkages can be fostered among countries which share transboundary waters, with their equitable use promoting peace and development.
Nearly 40 per cent of the world's population lives in countries that share river basins. Increasing stress on water resources globally will require the reasonable and equitable use of transboundary waters. Improved management of transboundary waters reduces the potential for conflict, fosters socio-economic development, promotes shared benefits, and supports healthy ecosystems and services.
"Cooperation over shared waters is becoming increasingly important, as we witness higher demand coupled with growing scarcity. Stephen McCaffrey is a true inspiration for us in this area, as well as and an important guide, through his works and his wisdom", said SIWI's Executive Director Torgny Holmgren.
Professor McCaffrey has been acting as legal counsel to states in several negotiations concerning international watercourses. He has served as counsel in many inter-state disputes over shared water resources, for example between Argentina and Uruguay, Pakistan and India, and Slovakia and Hungary, which have been heard by international courts and tribunals.