The World Bank recently published a report indicating that most Nigerians do not have access to potable water; the report that has raised concerns among stakeholders in the water supply sector across the country.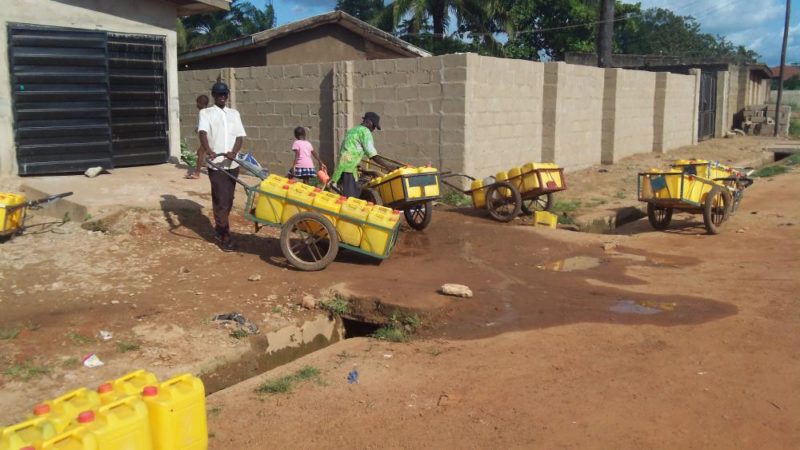 Similarly, the United Nations observes that damaged ecosystems have affected the quantity and quality of water available for human consumption globally in recent times to complicate the deteriorating water supply situations in developing nations such as Nigeria.
It observes further that no fewer than 2.1 billion people globally living without safe drinking water at home; affecting health, education and livelihoods.
Concerned by water supply situation in Nigeria, the Water, Sanitation and Hygiene (WASH) Poverty Diagnostic initiative, recommends in a report that the country needs to invest three times its current investment to improve the decaying WASH sector.
Giving an overview of poverty in Nigeria as it connects WASH, the initiative notes that huge investment is required for the sector if the country will meet the Sustainable Development Goals (SDGs) 6 on water and sanitation by 2030.
The SDGs 6 commits the world to ensuring that everyone has access to safe water by 2030, and includes targets on protecting the natural environment and reducing pollution.
In the light of this, stakeholders have, on many occasions, called for adequate funding of policies on water resources to achieve greater socio-economic developments.
Aside the needed funds to upgrade water supply system across the country, stakeholders suggest that the 2018 World Water Day on every March 22 should serve as a forum to sensitise policy makers to the importance of providing potable water for the public.
They argue that the day, with the theme, "Nature for Water'', will also serve as an opportunity to explore nature-based solutions to the water challenges in the 21st century.
They express concern about cases of deaths arising from cholera outbreak due to taking of contaminated water in many parts of the country and call for concerted efforts at addressing the situation.
Mr Hassan Bdliya, Chairman, Global Water Partnership in Nigeria, said that apart from funding and other challenges, Nigerians ought to understand that "water is a resource that can finish if not properly used in line with the principles of Integrated Water Resources Management (IWRM)''.
He said that the IWRM emphasised the need to use water, putting in consideration its sustainability, equity and reduce conflict that might come from poor use of water resources.
Bdliya also said that stakeholders were fond of developing water resources without following guidelines or principles and they somewhat ended up creating problems.
According to him, although Nigeria has made relative progress in WASH) sector, access to high-quality, reliable, and sustainable services remains low.
In his view, Mr Michael Ale, President, Association of Waterwell Drilling Rig Owners and Practitioners, said that 85 per cent of Nigerians depended on underground sources which had been overburdened and usually contaminated.
He stressed the need for the federal and state governments to address pollution of water sources by illegal drilling activities in the country, warning that failure to do so could lead to more outbreaks of water-borne diseases.
He said that unimproved water supply situation in the country was a time bomb, which needed to be addressed; adding that so long as drilling was done indiscriminately; its benefits might be lost.
Worried by this, participants recommended that President Muhammadu Buhari should declare a national state of emergency on water sector to enhance the political will for the accelerated development of water supply at a recent retreat on Revitalisation of Nigeria's WASH sector in Abuja.
They urged the federal and state ministries of water resources to urgently develop a WASH emergency action plan aimed at revitalising the sector, encompassing both rural and urban areas.
The participants included commissioners of water resources, managing directors of state water agencies and development partners.
They agreed that failure to address the current situation would have dire consequences on the citizens of the country.
Similarly, at a recent media dialogue on Nigeria's WASH sector organised by the United Nations Children's Fund (UNICEF), the speakers agreed that the country should take significant action to improve its water and sanitation sector.
According to UNICEF's WASH Specialist Drissa Yeo, the agency is supporting the Partnership for Expanded Water, Sanitation and Hygiene Strategy programme to establish a multi-sectoral partnership among government, development partners and the private sector to improve access to potable water supply and sanitation services.
He said that private sectors ought to improve entrepreneurial energies to achieve improved sanitation and Sustainable Development Goals targets through sanitation marketing and financing.
Similarly, Mr Zaid Jurji, the UNICEF Chief of WASH, Nigeria, raised an alarm that very few Nigerians had access to potable water.
The UNICEF official said that Multiple Indicator Cluster Survey between 2016 and 2017 conducted by the National Bureau of Statistics in conjunction with UNICEF also indicated that most of the water consumed by Nigerians was from sources contaminated either by faeces and lack of proper hygiene practice.
He noted that 50 per cent of water infrastructure in the country was bad, attributing the development to poor water governance.
He identified WASH as interrelated, recommending that good hygiene practice and making the nation open defecation free would ensure healthy lives for the citizens.
The WASH specialist also said that 25 per cent in the country practised open defecation, warning that open defecation in the vicinity of water sources could contaminate it, thereby making the water unsuitable for consumption.
He called for promotion of water safety plans to protect water from point of source to consumption.
Minister of Water Resources, Suleiman Adamu, nonetheless, believes that the Federal Government's constitutional role is to provide raw water to states with a responsibility to intervene by ensuring that its river basin and dams get water to be reticulated to states.
"The laws of the land say the responsibility to provide potable water supply rest on the state and local government.
"What the Federal Government does is to intervene from time to time and what we do at times is to ensure the provision of water in the rural areas through water schemes.
"That is not to say it is our primary responsibility. Our responsibility is providing good policy,'' he said.
Adamu, however, stated that the Federal Government was willing to provide assistance whenever necessary as it was aware of the high cost of water infrastructure.
He further noted that government had been partnering other bodies through the provision of funds, capacity building, good policy and multi lateral loans to improve on the capacities of the benefiting organisations as well as ensure adequate maintenance of facilities.
By Tosin Kolade, News Agency of Nigeria (NAN)