In commemoration of the World Water Day (WWD), Lagosians on Thursday, March 22, 2018 trooped out in their thousands to protest the proposed privatisation of the state's water infrastructure by the Governor Akinwunmi Ambode government.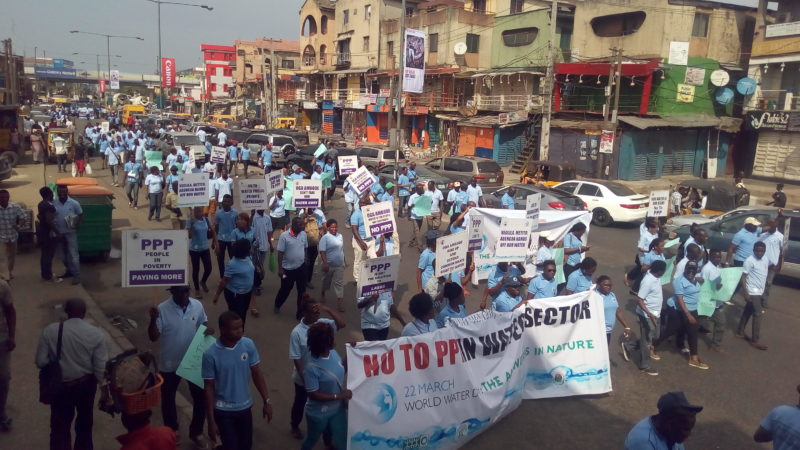 World Water Day is an annual observance on March 22 by people and organisations worldwide, including all United Nations member states, to highlight the importance of freshwater. It is also used to advocate for the sustainable management of freshwater resources.
The theme for 2018 WWD is "Nature for Water" – exploring nature-based solutions to the water challenges we face in the 21st century.
Led by Environmental Rights Action/Friends of the Earth Nigeria (ERA/FoEN), Amalgamated Union of Public Corporations, Civil Service Technical and Recreational Employees (AUPCTRE), Joint Action Front (JAF), Africa Women Water Sanitation and Hygiene Network (AWASHNET), Committee for Defence of Human Rights (CDHR), Labour, Health and Human Right Development Centre (LHAHRDEV), Child Health Organisation (CHO), Climate Aid, Centre for Dignity, and Friends of the Environment, the peaceful protesters in sky blue T-shirts carried placards and sang solidarity songs.
The placards had inscriptions like "PPP is Picking Pocket of the Poor", "Veolia, Metito, Abengoa Hands Off Our Water", "PPP Will Lead To Job Losses", "Oga Ambode Don't Take Our Water Away", and "Our Water Is Our Right, No to PPP".
Leading activists, Achike Chude of JAF, Ayodele Akele of LHAHRDEV, Veronica Nwanya of AWASHNET, Vickie Onyekuru and others, were at the vanguard of the protest.
Chude lamented Lagos government's plan to sell a God-given asset like water.
"We say no to privatisation. Water must be free. Government must put money into water infrastructure, so that people can have water," he said.
For Kunle 'Wiseman' Ajayi, the general secretary of United Action for Democracy (UAD), if the problem is not stopped, it will stop humanity.
His words: "They want to tax everything from air, talking, laughing and even crying. That is why we must say no to privatisation of water in Lagos."
Different Nigerian languages were used to address the crowd at Ikeja Roundabout, from where the march to Alausa started. While Angela Akunne spoke in Igbo, Onyekuru spoke in Hausa. Pidgin English and Yoruba were also used.
Akunne said "if we must pay for water in Lagos, we will be limited in the use of the commodity. Government must give us water because God has given us water free."
At Alausa, the gate to Government House was locked, denying the protesters entry.
Speaking to Gabriel Olawale, a Department of State Services (DSS) official attached to Lagos Government House, Muali Subair, the vice president of AUPCTRE, said: "Ambode's first assignment is to give Lagosians water because water is life."
Chude maintained that not everything should be taxed. "We are saying capital no to water privatisation."
It was Abdulkareem Olasheu, the Senior Special Adviser (SSA) to the Governor on Community Mobilisation, who came out to address the protesters, as the governor was reportedly out of the country.
The governor's aide first apologised to the crowd for locking them out of "their house", explaining that "not all protesters are organised as you are", hence the gate should be locked. He even agreed to let the protesters in, if the promise to maintain their peaceful disposition.
He signed and received the letter entitled "World Water Day 2018: No To Privatisation In Water Sector, We Insist" on behalf of the governor and promised to relay other messages passed to him.
The last part of the letter to Ambode reads: "Your Excellency, we believe the solution to the current water crisis in Lagos is not to commodify water. We have proposed solutions in the document – Lagos Water Crisis: Alternative Roadmap for Water Sector, copies of which have been sent to relevant agencies and the office of Your Excellency.
"We are ready to work with your government. Accept the assurances of our highest regards."
By Innocent Onwuji