CWAY Group, a global producer of drinking water and beverages, has hosted a thought leadership event to commemorate the World Water Day at its headquarters in Lagos, Nigeria.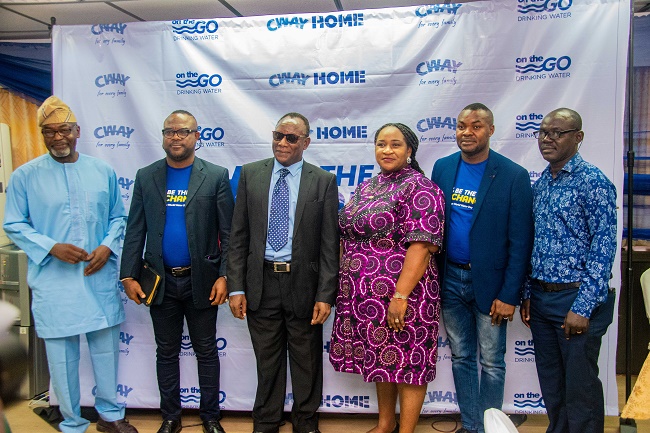 The event was held to raise awareness about the importance of water and to encourage everyone to take action to preserve the invaluable resource. The conference was attended by government officials, representatives of corporate organisations, members of the press, and other stakeholders.
In his welcome address, Sales Director for CWAY, Mr. Abiodun Sulaimon, emphasised the importance of education and learning from distinguished guests, even as he highlighted the importance of World Water Day, stating that it serves as a reminder of the need to preserve water resources for future generations.
Associate Prof. Roland Uwadiae, the keynote speaker, who spoke on the topic, "Celebrating the Earth's Most Important Treasure of Inestimable Value: Accelerating Change through Awareness and Value", presented somewhat alarming statistics on water scarcity, pollution, and mismanagement, highlighting the urgent need for action to address these issues, and calling for urgent action to preserve the invaluable resource.
He emphasised the importance of raising awareness and inspiring action, noting that corporate organisations can learn from CWAY's example in promoting water conservation and sustainability. Prof. Uwadiae also led the audience in taking the water pledge, which was a commitment to reducing water waste and promoting water conservation in their respective communities.
Following the keynote address, Deji Johnson, Chief Operating Officer (COO) of the Lagos Water Corporation, called for more partnerships between the private sector and the Lagos State Government to ensure sustainable access to clean water. He also addressed issues affecting water management and conservation in the state.
The COO, who spoke on behalf of the Managing Director of the Lagos Water Corporation, Munimu Badmus, highlighted the progress the state government has made through the water corporation while noting the various challenges it has worked hard to overcome in the sector.
The event ended with a vote of thanks from Deputy Marketing Director for CWAY, Mr. Samuel Akinrimisi, who thanked all the attendees and emphasised the importance of collective efforts in accelerating change towards a sustainable future.
Deputy Marketing Director of CWAY, Akinrimisi Samuel, expressed appreciation to all the state representatives and members of the press, saying: "This day is unique because water is the driving source of all nature."
He affirmed CWAY's commitment to providing clean and sustainable water to communities and thanked all participants for their contributions to making the event a success.
He added that the CWAY Group remains committed to promoting the sustainable management of water resources and providing clean and safe drinking water to communities across Nigeria.