Millions of people in Europe drink contaminated water, often without knowing it. The World Health Organisation (WHO) estimates that, every day, 14 people die of diarrhoeal disease due to inadequate water, sanitation and hygiene (WASH).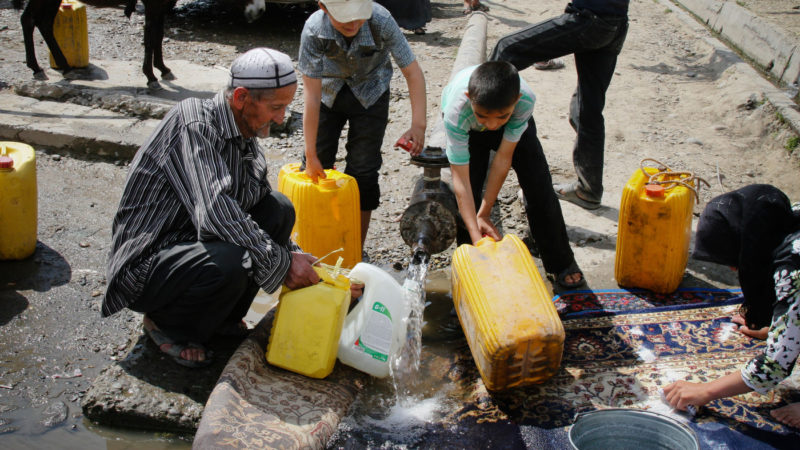 Clean and safe drinking-water at home is frequently unavailable, particularly for those living in rural areas. In the European Region, 57 million people do not have piped water at home, and 21 million people still lack access to basic drinking-water services. These people use water from unprotected dug wells and springs, directly consume surface water, or need more than 30 minutes to collect water. About three quarters of people without access to basic drinking-water services live in rural areas.
The WHO sets global health-based guidelines for drinking-water quality. The water safety plan (WSP) approach is a core pillar of these guidelines. WHO considers WSPs to be the most effective means of consistently ensuring the safety of a drinking-water supply.
WHO/Europe, through the European Centre for Environment and Health (ECEH) in Bonn, Germany, works with countries to implement the guidelines. ECEH supports countries to survey and assess their drinking-water supplies, and to prioritise what needs to be done to improve water quality and access to safe services. The outcomes of these activities become part of national policies and measures, leading to the adoption of the WSP approach.
Safe water projects in Serbia and Tajikistan
Recent WHO projects in Serbia and Tajikistan have highlighted the challenges people living in rural areas face in accessing safe drinking-water. In Tajikistan, for example, 32% of the rural population does not have access to basic drinking-water services.
On the issue of water safety, one third of rural water systems inspected in Serbia did not meet standards for microbiological drinking-water quality, and more than 60% were exposed to possible contamination from latrines, sewers, animal breeding, cultivation, roads, industry, rubbish and other sources of pollution placed nearby.
"The national-level assessment of small-scale water supplies in rural areas has created a strong foundation for identifying key threats to public health from drinking-water," said Dr Ferenc Vicko, State Secretary at the Ministry of Health of Serbia. "The outcomes of the assessment also provided strong health arguments for making WHO-recommended water safety plans mandatory, developing action plans and raising public awareness."
The findings of the WHO-supported survey in Serbia informed specific recommendations for national authorities, and these have led to revised regulations. The country has already made two key interventions to improve small-scale water supplies. First, it added a new provision in the draft law on drinking-water that stipulates the introduction and implementation of mandatory WSPs to ensure safe drinking-water supply management. Second, it is increasingly enforcing regulation on the foundation and ownership of water supply systems (regardless of size) to ensure their management by authorised legal entities.
In Tajikistan, WHO provides opportunities for broad capacity-building by supporting the establishment of a national team of WSP facilitators, and by strengthening local experience in developing WSPs through closely guided pilot projects in rural areas.
Outcomes of the safe water project in Tajikistan include the integration of the WHO-recommended WSP approach into a draft law, and the country's stronger personnel and laboratory capacity for the surveillance of drinking-water supply and quality. Funded by the Finnish Ministry of Foreign Affairs, the project is co-led by the Tajik Ministry of Health and Social Protection and WHO/Europe.
"I was impressed that water users in Sino village (Tajikistan) used their free time to dig out filthy drinking-water pipes from rock-hard soil to move the supply's inlet from an open river to a protected spring. It was a great motivation to continue our work on drinking-water safety in the Region," noted Mr Oliver Schmoll, Programme Manager of Water and Climate at ECEH.
These projects have also empowered those living in rural areas. In Serbia, for the first time, people have information about the quality of the drinking-water they consume. They also know they have the right to petition local communities to take over the management of piped water supplies, in accordance with national legislation. In Tajikistan, where WHO trained project communities on water safety planning principles, people can take ownership of identifying water supply risks and finding suitable measures to mitigate them, supported by advice from local WSP facilitators and water supply engineers.
The WSP approach
The WSP approach focuses on comprehensive risk assessment and risk management to ensure that water from a particular supply system is safe to drink. WSPs identify chemical and microbiological hazards of local concern, including the ways in which those hazards can enter the water supply. They cover all steps in the water supply, from collection through to storage, treatment and delivery. On this basis, WSPs lead to better management, operation, monitoring and public health surveillance of water supplies.
Guidance to the European Commission
WHO/Europe recently provided comprehensive recommendations to the European Commission on the planned revision of the European Union Drinking Water Directive. These recommendations detail how protecting people's health from the negative effects of consuming contaminated drinking-water should go beyond measuring compliance with standard water quality parameters; it should involve adopting a more tailored, risk-based approach for each water supply system. The foundation of the WHO recommendations is the WSP approach, which provides the most effective means of consistently ensuring the safety of a drinking-water supply.
World Water Day
World Water Day, marked each year on March 22, provides an opportunity to advocate for further action to ensure that we reach the Sustainable Development Goals (SDGs) related to WASH. WHO says it is working at global, regional and national levels towards reducing deaths and illnesses from waterborne diseases and water contamination, and towards achieving universal and equitable access to safe, sustainable and affordable drinking water for all.
Global and regional goals
Several of the SDGs refer specifically to water safety and access. For example, SDG 3.3 seeks to combat waterborne diseases; SDG 3.9 to reduce the number of deaths and illnesses from water contamination; and SDG 6.1 to achieve universal and equitable access to safe and affordable drinking-water for all.
In 2017, Member States in the Region agreed to the Ostrava Declaration, committing them to take action to ensure universal, equitable and sustainable access to safe drinking-water, sanitation and hygiene for all and in all settings, while promoting integrated management of water resources and the reuse of safely treated wastewater.
In 1999, European Member States adopted the Protocol on Water and Health, which is jointly supported by WHO/Europe and the United Nations Economic Commission for Europe (UNECE). The Protocol contributes to implementing the water-related SDGs and the Ostrava commitments in the Region. It provides an effective policy tool, calling on countries to establish national targets and implementation plans related to WASH. To date, 26 countries in the Region have ratified the Protocol. Currently, Serbia is Chair of the Bureau to the Protocol.
Water contamination and water-related diseases
Further work is needed to fully address persisting gaps in WASH in the Region, where water-related disease outbreaks remain a common occurrence. Contamination from naturally occurring substances such as arsenic and fluoride, and from human-sourced substances such as lead, nitrate and industrially derived chemicals, is a concern in many places.
The most commonly reported infectious diseases linked to WASH in the Region are campylobacteriosis (a bacterial gastrointestinal infection), hepatitis A (a viral liver disease) and giardiasis (a parasitic infection of the small intestine, also known as beaver fever).
Available published data indicate that approximately 18% of reported and investigated outbreaks are linked to water. However, the true extent of water-related diseases in the Region is unknown, and likely to be much higher than data suggest.