"We go to the stream, we don't have water here, even toilets; we usually use the bush. A woman was bitten by a snake while defecating in the bush and another one was bitten when she went to pick firewood for cooking.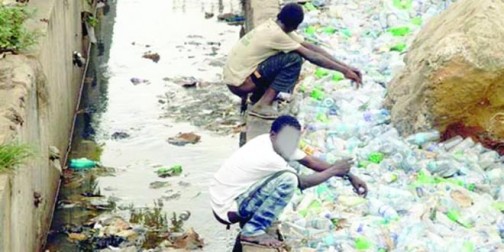 "We want the government to help us, especially on these toilet and water issues. Some women urinate anywhere and get infected; majority of us are having infections and treating infections in hospitals is quite expensive," says Hannatu Peter, an internally displaced person residing at the New Gongola IDPs camp in the FCT.
Strange as the testimony may sound, this is a typical scenario in several communities, particularly in the Internally Displaced Persons (IDPs) camps across the country, as poor living conditions and dearth of sanitation facilities are peculiar features of such neighbourhoods.
A major outcome of the lack of sanitation facilities is open defection which, according to sanitation experts, usually provokes the outbreak of waterborne diseases such as cholera and dysentery in such communities, particularly among the children.
According to Nigeria Water, Sanitation and Hygiene (WASH) Poverty Diagnostics Report, the country's sanitation sector is in a critical condition.
The report shows that the economic growth of Nigeria, which has a population of over 183 million, has not translated into rapid poverty reduction.
Therefore, concerned observers insist that country has been lagging behind in the accumulation of physical and human capital, with poor access to WASH services being a key factor.
The Minister of Water Resources, Mr Suleiman Adamu, warned at the National Council on Water Resources meeting, held in Abuja between Nov. 13 and Nov. 15, that if India was able to exit from its number one position in the list of countries with poor sanitation and open defecation by the middle of 2019, it would be a "national shame'' for Nigeria.
"I was in India recently; the country has been adequately mobilised on issues of sanitation and open defecation. It is, therefore, a civic responsibility for all of us.
"Three years ago, only 40 per cent of Indians were using toilets but now, 95 per cent of Indians are practising full sanitation practices.
"The Indians have not only stopped to defecate in the open, they are also re-cycling their waste into usable products; they have experienced a lot of transformation within three years.
"In the last three years, the Indians have built 80 million toilets; we need this kind of quantum leap in our country.
"By next year, wherever you go in the world, you would hear that Nigeria is number one in open defecation; that is a national shame which we must not allow to happen," he said.
The minister, however, said that the Federal Government would soon enter a technical cooperation with India to salvage the Nigerian situation.
Truly, the situation appears somewhat grim, as the 2017 WaterAid Report says that over 122 million Nigerians still lack access to basic sanitation facilities and ranks Nigeria as the third worst country with the poor access of its citizens to essential sanitation facilities in rural and urban areas.
It is quite true that the entire sub-Saharan Africa region has limited access to WASH services but Nigeria's level of access lags far behind those of other peer countries, with 57 million Nigerians living without access to improved water, while 130 million others use unimproved sanitation facilities.
Alarmingly, a large body of evidence suggests that limited or no access to WASH services has a lot of damaging effects on development outcomes, adversely affecting the people's health, while limiting their access to educational, economic opportunities and productivity.
At the just-concluded National Council of Water Resources, stakeholders underscore the need for the three tiers of government to exhibit huge political commitment towards the provision of WASH facilities for the citizens so as to change the narratives.
The water resources minister said that President Muhammadu Buhari's recent launch of the National Action Plan for Revitalisation of WASH Sector marked a new beginning for the country in its efforts to achieve an open defecation-free status.
Adamu said that the launch would bring about purposeful collaboration in the sector to facilitate designed efforts to expand the citizens' access to potable water, sanitation and hygiene, with a renewed commitment toward the achievement open defecation-free society by 2025.
"If this is not done, we stand the chance of taking the centre-stage of open defecation countries when India would have exited the list by mid-2019," he said.
Some stakeholders in the WASH sector believe that the World Toilet Day is all about initiating pragmatic plans to ensure that everyone has access to safe toilets by 2030.
They add that this is part of the strategies for meeting Goal Six of the Sustainable Development Goals (SDGs), which aims at scaling up the people's access to improved sanitation and water.
Mr Rolf Luyendijk, the Executive Director, Water Supply and Sanitation Collaborative Council (WSSCC), said that the celebration of the World Toilet Day on Nov. 19 was a reminder for policymakers to take concrete actions to rid the world of more than 800 million open defecators.
He particularly noted that hundreds of millions of schoolchildren had no access to school toilets; with cholera outbreaks resulting in hundreds of thousands of child deaths every year from poor sanitation and hygiene.
Speaking on the Global Water Radio, Luyendijk said that recently in India's Prime Minister, Mahendra Modi, made sanitation a top national priority under the "Clean India'' campaign, known as the Swachh Bharat Mission.
He noted that in neighbouring Nepal, after years of concerted efforts, the country was on the verge of declaring itself the first open defecation-free nation.
"Ethiopia, Ghana, Rwanda, Indonesia have really made fantastic strides in sanitation over the past couple of years,'' he said.
Luyendijk noted that the reason for monitoring sanitation progress and data collected via the Joint Monitoring Programme (JMP) of World Health Organisation and UNICEF was to trigger action.
"So, most monitoring is used for accountability purposes. We gave you some funding and what have you got to show for it?' The JMP data are used for tracking progress. Did we reach our targets?
"Are we making enough change? Is the change happening rapidly enough? What proportion of the population still defecates in the open? The JMP data can also be used for planning, for targeting and for budget allocation.
"That is to say once the politicians are already convinced that they need to invest in sanitation, the JMP data can tell you where to invest,'' he added.
The executive director said that apart from considering the data, the call for action from all tiers of government to accelerate progress on sanitation projects globally and nationally was very imperative.
Luyendijk stressed the need to invest in a common matrix and monitoring system across programmes to absorb more funds.
"Instead of us all chasing the numbers — with scattered and relatively small projects and programmes — I really think that we need to pull together and strengthen the system and absorption capacity to scale up and accelerate programming.
"We need to get behind ending open defecation roadmaps, we need to invest in a common matrix and monitoring system across programmes so that we can absorb more money, but we don't have our own monitoring frameworks.''
Corroborating the need for sanitation scale-up, Mr Michael Adegbe, the Business Development Leader, Safe Toilets Nigeria, underscored the need to involve the private sector in efforts to scale up sanitation across the country.
He stressed that access to proper sanitation and clean water was vital for the health and safety of the growing populations of rural and urban neighbourhoods.
He, nonetheless, noted with regret that Nigeria was still among the top three countries with a large section of their populations still defecating in the open.
Adegbe said that his outfit was carrying out sanitation marketing to encourage private sector organisations and toilet business owners to invest in cost-effective toilet hardware so as to encourage people to construct and use their toilets.
All the same, Mrs Priscilla Achakpa, the National Coordinator of WSSCC Nigeria, stressed the need to promote sanitation and hygiene in markets and other public places because such campaigns would facilitate efforts to halt the spread of diseases in communities.
She urged the government to give priority attention to efforts to boost the citizens' access to water and sanitation, while promoting the culture of hand washing at critical times.
Achakpa also urged the states to begin to take the health and wellbeing of their citizens seriously, as poor access to potable water and sanitation would invariably affect the people's health, wellbeing and economic development.
Sharing similar sentiments, Mr Benson Attah, National Coordinator, Society for Water and Sanitation, bemoaned the apparent apathy of state governments toward improving the people's access to water and sanitation across the country.
According to him, there is the need for the states to prioritise the provision of WASH facilities, as open defecation is still common across the country.
Attah, however, commended the efforts of the Federal Government to improve the citizens' access to water and sanitation, adding that pragmatic efforts should, however, be made to tackle the menace of open defecation in a holistic manner.
"Nigeria is presently being shielded by India; India is the number one country in terms of open defecation; once the country moves out from that unenviable position, Nigeria will be exposed to that embarrassment.
"We hope we are able to overtake India before it moves out of that list; it is saddening that Nigeria, as the giant of Africa, is leading Africa with regard to countries with the largest open defecation statistics.
"Globally, Nigeria is the second behind India, in terms of countries with the highest number of people defecating in the open, while in Africa, it ranks first,'' he said.
The Multiple Indicator Cluster Survey (MICS) 2017 reports reveal that 28.5 per cent of the Nigerian population practise open defecation, while 110 million citizens lack access to improved sanitation.
All in all, sanitation experts believe that the country should move beyond paying lip service to issues of sanitation and hygiene, calling for deliberate policies and programmes to change the poor sanitation and hygiene indices of the country.
By Tosin Kolade, News Agency of Nigeria (NAN)