The Rotary Club of Abuja has urged the Etsu Bwari, Mr Ibrahim Yaro, to always sensitise his subjects about polio immunisation to prevent recurrence of the viral infection in the community.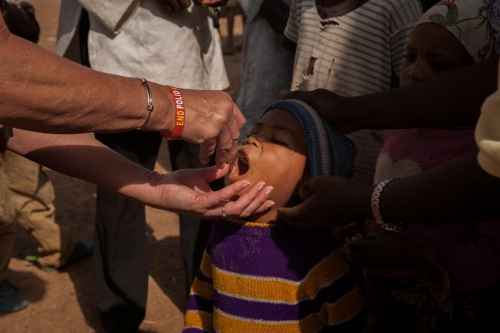 Mr Ben Omogbene, the President of District 9125 Kubwa-main Rotary Club, gave the advice at the courtesy visit of  club members to the Etsu's palace on Saturday, October 21, 2017 in Bwari, FCT.
The visit was organised in conjunction with other Rotary Clubs such as Maitama, Life Camp, Kubwa gateway, Gwarimpa and Kubwa Federal Housing, all in Abuja.
He said that the aim of their visit was to commemorate this year's World Polio Day with the theme: "A walk keeping Nigeria on zero'' being celebrated globally on Oct. 24.
"We are here to sensitise the residents of Bwari on the need to bring polio to zero level; we are celebrating the ultimate quit notice given to polio in Nigeria.
"We also want to put an end to polio infection in the community and the country at large.
"You are the eye of Bwari, we want you to sensitise your subjects on the need to go for vaccination to achieve the goal," Omogbene said.
The Chairman of the organising committee, Mr Festus Agbazue said that the Rotary awareness campaign started since 1985 in the bid to create relevant awareness on danger of the disease.
"Over time, Rotary has always employed sensitisation as a tool to stem fights against polio, it is so good we have been able to sustain it yearly and we will also do it in 2018 until it is eradicated.
"You are the eye of the people of Bwari, we want you to sensitise your subjects and through your support, we will be able to kick polio out of the community.''
Responding, Yaro decried the practice by some community dwellers who disallowed polio vaccination in their houses to hinder efforts driven toward eradication of polio.
Yaro said: "we all know polio virus infection is a bad disease, we tell our subjects to get immunised, but the only quarter that gives us problem is the Hausa community.
"All we wish for is that they should allow their families to take the vaccines; the campaign is to help us and if the vaccine is free, we should be able to stamp out polio to zero in Bwari.
"I am determined to work with you; we have been trying on our part. Going forward, we will meet with Hausa community leaders and clerics to spread the message,'' he said.
NAN reports that the high points of the visit were installation of the Etsu Bwari as Polio Ambassador by Nollywood actor, Bruno Iwuoha and a 26km-Polio-Awareness Walk by the club members.
By Fortune Abang