The Human and Environmental Development Agenda (HEDA Resource Centre), a renowned environmental advocacy organisation, says it firmly recognises the paramount importance of addressing gender issues in the realm of ocean conservation and sustainable development.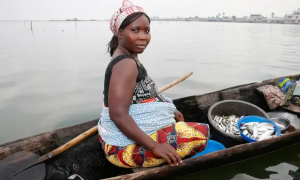 In a statement endorsed by HEDA's Executive Secretary, Sulaimon Arigbabu, on the occasion of World Ocean Day 2023 with the theme "Planet Ocean: Tides are Changing," the group highlights the pivotal role that women play in the conservation and management of our oceans.
This year's World Ocean Day theme emphasises the urgent need for a united global effort to tackle the challenges facing the planet's oceans, underscoring the irreplaceable significance of safeguarding this vital resource for current and future generations.
"We acknowledge the unique knowledge, skills, and perspectives that women bring to the table, which contribute to more effective and holistic solutions. Furthermore, we underscore the importance of addressing gender issues in the context of ocean conservation and sustainable development," states Arigbabu,
According to the environmentalist, the world's oceans are currently confronting escalating threats, including climate change, pollution, overfishing, and habitat destruction. These factors have resulted in the degradation of marine ecosystems, the loss of biodiversity, and the decline of numerous ocean-dependent communities and industries.
"The problem of plastic pollution is a global threat to our oceans with the need for action. Each year, millions of tons of plastic waste enters the oceans damaging ecosystems and endangering marine life, it accumulates in massive garbage harming species and releasing toxic chemicals. There is the need to protect the oceans from the detrimental impacts of plastic pollution."
Arigbabu further emphasises that women often bear the brunt of the impacts resulting from ocean degradation, particularly in coastal communities where they actively engage in activities such as fishing, aquaculture, and seaweed farming. Regrettably, their voices and contributions are frequently overlooked or marginalised.
"Taking immediate action to reverse these alarming trends and ensuring the long-term sustainability of our oceans is imperative. It is crucial to promote gender equality and empower women, enabling them to fully participate in decision-making processes related to ocean governance, policy formulation, and sustainable resource management," he added.
Addressing the gender gaps, Arigbabu further calls for policies and programmes that promote gender equality, empower women in the workforce, and recognise and value women's contributions to the ocean economy by promoting equal pay and opportunities, providing training and education for women in non-traditional roles, and addressing gender-based violence and harassment.
HEDA, however, calls upon governments, international organisations, civil society, and the private sector to prioritise the empowerment of women in ocean-related initiatives. It also urges stakeholders to ensure equal access to resources, opportunities, and decision-making processes, promoting a gender responsive approach to ocean governance and conservation.