As the world prepares to commemorate World No Tobacco Day on Thursday, May 31, 2018, Uganda will destroy a 40-feet container full of shisha pots and related apparatus that were confiscated from bars and restaurants across the country.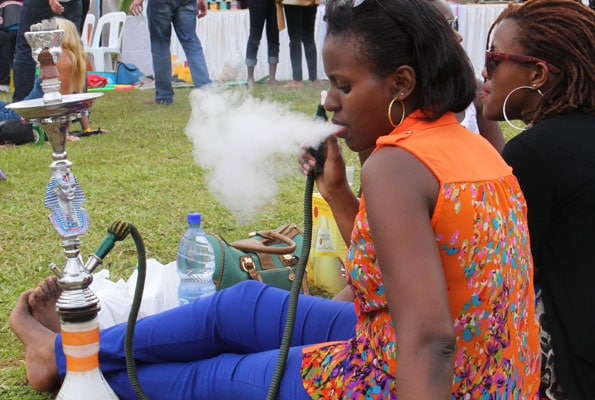 Diana Atwine, the permanent secretary, Ministry of Health, said Uganda is striving to fight against the use of the substance which is a source of income to some people and yet a drain to the economy in terms health care.
According to a World Health Organisation (WHO) statement on Wednesday, in Uganda the cost of tobacco use constitutes 0.5 per cent of the Gross Domestic Product (GDP), while expenditure on treating tobacco induced illness is two per cent of the National Health Expenditure.
The WHO noted that tobacco causes over one in 10 heart diseases, including stroke.
This year's theme, "Tobacco and heart disease", focuses on tobacco use as a key risk factor for developing heart and related diseases, including stroke.
A study, "The Health Cost of Tobacco in Uganda," released last year shows that the total cost of tobacco use including the direct cost of treatment and the indirect costs of loss of income and productivity from death and disability is $126.48 million.
The study indicates that the total health cost outweighs the market value ($81.22 million) of tobacco products or the assumed benefits of tobacco use in the east African country.
Global annual costs from tobacco use, according to WHO, is $1.4 trillion in health care expenditure and lost productivity from illness and premature death.
The health body says there is need to highlight the dangers associated with using tobacco, and to press for policies to reduce its use.
Uganda enacted a Tobacco Act about three years ago spelling out stringent measures to curb the produce, import, use and promote tobacco products.
The law banned advertising, promotion and sponsorship by tobacco manufacturers, distributors and sellers.
Government also banned importation, manufacture and sale of tobacco products which do not conform to standards.
The country's tax body, Uganda Revenue Authority, recently destroyed contraband cigarettes worth $410,000. The law also made it illegal to smoke in public places.
Atwine recently told reporters that, whereas the country has a good law, it needs to be implemented to realise the desired results.
Atwine said government would embark on sensitising young people on the dangers of smoking.
"The percentage of young people with mental illness is associated with drug abuse. Young people fancy smoking shisha – this is dangerous," she said, noting that, in their campaign against smoking, they would target university students.
Civil society organisations are also pushing companies to have in place regulations against the use of tobacco.
Primah Kwagala, an official of The Centre for Health, Human Rights and Development, a civil society organisation, told newsmen that companies which fail to protect employees from smokers would face civil litigation.
Tobacco farmers are, however, protesting the increased pressure to stop tobacco use, arguing that their household income is reducing.