The 2018 World No Tobacco Day Commemoration went colourful in Abuja as civil society and student groups marched through the major streets of the federal capital city, demanding that government enforce the ban on smoking in public places, among a host of provisions of the National Tobacco Control Act which was signed into law in 2015.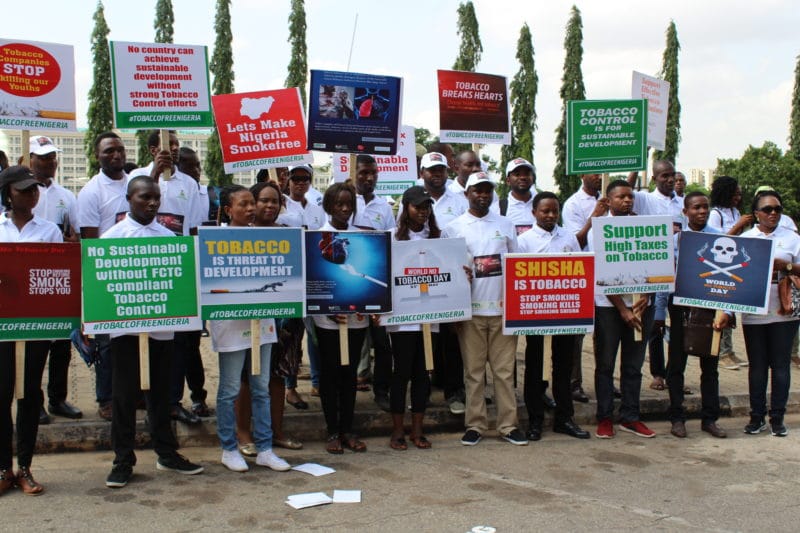 Groups that participated in the march convened by the Ministry of Health and the Nigeria Tobacco Control Alliance (NTCA) include Environmental Rights Action, Cedars Foundation, Gatefield, Smoke-free Club UniAbuja and other youth groups.
Before the kick-off of the march, Dr. Malau Toma of the Ministry of Health explained that the thrust of the exercise was to sensitise the public on the dangers of tobacco and solicited their support for the NTC Act.
He also explained that the theme of the 2018 WNTD which was "Tobacco and Heart Disease" made it imperative to also make the public realise the dangers in second hand smoke, which the World Health Organisation (WHO) blamed for 600,000 deaths annually.
At the Garki ultra-modern market where the activists addressed the public in the three major languages, Akinbode Oluwafemi of the ERA/FoEN listed some of the ailments that smokers and non -smokers could become susceptible to.
Chibuike Nwanirrinaya of the NTCA also spoke in Igbo explaining that tobacco was the gateway to other substances abused by the youths such as cannabis, heroine, marijuana and in Nigeria, tramadol, among others.
At a press briefing subsequently, Hilda Ochefu of the Campaign for Tobacco Free Kids (CTFK) and Oluseun Esan of NTCA emphasised the role of government in ensuring that non-smokers are not exposed to tobacco harms.
Oluwafemi also emphasised that, to properly implement the NTC Act, the Nigerian government must establish the Tobacco Control Fund as contained in Part III of the NTC Act and commence the enforcement of the nine provisions of the Act announced by Minister of Health, Prof. Isaac Adewole in 2017. The provisions announced by the minister include ban on smoking in public places, restriction on underage access and ban of sale in single sticks, among others.