The Nigerian Conservation Foundation (NCF) on Saturday, May 20, 2023, called for a safe sustainable water for migratory birds to sustain biodiversity in the aquatic ecosystem.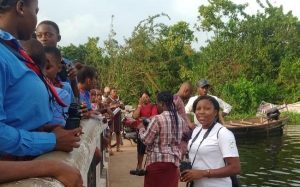 Miss Ibukun Lawal, the NCF Environmental Education Officer, said this at an event to mark the 2023 World Migratory Bird Day (WMBD) at the Totowu wetland, located in Egan, Igando, a suburb of Lagos State.
The 2023 WMBD has the theme: "Water: Sustaining Bird Life."
She said that water was very important to ensure the survival of migratory birds.
Lawal said that birds need water to clean their feathers from dirt to make their flights easier and lighter.
She noted that just as human beings need regular supply of water, birds also require safe supply of water to survive.
Lawal said that migratory birds need lakes, rivers, streams, ponds, wetlands, coastal marshes, and oceans for feeding, drinking as well as nesting.
"These are vital places for migratory birds to rest and refuel during migration.
"The impacts of climate change are having a direct impact on the quantity and quality of water resources and on the conservation status of many migratory bird species," she added.
According to her, the WMBD is an annual event that is set aside to raise awareness about migratory birds.
Lawal added that the NCF was using the occasion to underscore the need for the conservation of migratory birds and their habitats.
She said that the 2023 edition of the WMBD was to initiate conversation around sustainable bed life.
She said that as part of the activities to mark the WMBD, the foundation took sustainable birdlife advocacy to some schools it invited.
"Some of the schools invited are T&G School, Aima School, St Bernard School, St Zita School and Speed Schools."
She said that all the schools were located around Egan-Igando, where the NCF has about 34 conservation clubs.
She said that with the aid of binoculars, the students sighted the following species of birds; African Jacana, Black Heron, African Thrush and cattle egret, among others.
Lawal said that the Totowu wetland is rich in biodiversity.
She, however, called on the government to conserve the Totowu wetland to preserve its biodiversity and to protect some of the endangered species that live there.
By Fabian Ekeruche