The World Health Organisation (WHO) has called on governments to take urgent actions to protect health and mitigate climate crisis.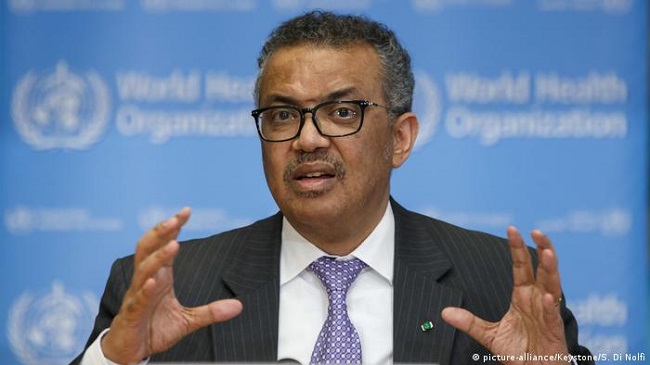 The UN health agency also called on organisations, corporations, and citizens to share actions taking to protect the planet and human health.
WHO made the call in a message to mark World Health Day, annually celebrated on April 7 to draw attention to a specific health topic of concern to people all over the world.
In its call-to-action, the UN health agency issued a shocking report on Monday, noting that 99 per cent of people breathe unhealthy air – mainly resulting from the burning of fossil fuels.
"The climate crisis is a health crisis: The same unsustainable choices that are killing our planet are killing people," WHO Director-General, Tedros Ghebreyesus said.
The UN health agency warned that the steadily heating world is seeing mosquito-borne diseases spreading farther and faster, than ever before.
"Extreme weather events, biodiversity loss, land degradation and water scarcity, are displacing people and affecting health.
"While pollution and plastics found at the bottom of the world's deepest oceans and highest mountains, are increasingly making their way into food chains and blood streams.
"Moreover, systems that produce highly processed, unhealthy foods and beverages, are driving a wave of obesity, increasing cancer and heart disease while generating up to a third of global greenhouse gas emissions.
"These health and social crises are compromising people's ability to take control over their health and lives," says WHO.
It said that the  COVID-19 pandemic had highlighted fault lines of inequity across the world, underlining the urgency of creating sustainable and healthy societies which do not breach ecological limits.
We need to ensure that all people have access to lifesaving and life-enhancing tools, systems, policies and environments, said the agency.
WHO's Manifesto for a healthy and green recovery from the pandemic prescribes protecting and preserving nature as the primary source of human health.
It advocates for investing in essential services – from water and sanitation to clean energy in healthcare facilities – ensuring a quick and healthy energy transition; promoting healthy and sustainable food systems; building healthy and liveable cities; and stopping taxpayers' money from funding pollution.
And the Geneva Charter for well-being, highlights what global commitments are needed to achieve equitable health and social outcomes now and for future generations, without destroying the health of our planet.
At a time of heightened conflict and fragility, WHO is marking its founding day by launching the " Our Planet, Our Health campaign", which re-imagines and re-prioritises resources to create healthier societies.
"We need transformative solutions to wean the world off its addiction to fossil fuels.
"To reimagine economies and societies focused on well-being, and to safeguard the health of the planet on which human health depends," Ghebreyesus said.
In a related development, the WHO has estimated that more than 13 million annual deaths globally are due to avoidable environmental causes, including the climate crisis.
The organisation's Deputy Country Representative in Nigeria, Mr Alevander Chimbaru, said this in Abuja on Thursday during Press briefing to mark 2022 World Health Day.
Chimbaru said that the 2022 theme of the day was a reminder to the inextricable link between the planet and human health, as the burden of Non Communicable Diseases (NCDs) rise alongside growing incidences of climate-related challenges.
He said: "Climate change is manifesting in increasing temperatures, rising sea levels, changing rainfall patterns, frequent and extreme weather conditions.
"More than 13 million annual deaths globally are due to avoidable environmental causes, including the climate crisis."
He said that with direct consequences for the key determinants of health, climate change  was negatively impacting air and water quality, food security and shelter.
"The knock-on effect for the burden of heart and lung disease, stroke and cancer, among others, is evident from statistics that point to NCDs, representing a growing proportion of Africa's disease burden."
He added that "in African region, nnon-communicable diseases are set to overtake communicable diseases, maternal, neonatal, and nutritional conditions combined.
Chimbaru said the diseases were becoming leading causes of death by 2030, adding that "COVID-19, along with spiraling obesity, diabetes and hypertension rates, compounds the challenge, highlighting the urgency for multi-sectoral response."
He said that during the past two decades, most public health events were climate-related, whether they were vector- or water-borne, transmitted from animals to humans,  or the result of natural disasters, "for example, diarrhoea is the third leading cause of disease and death in children younger than five in Africa.
"A significant proportion of which is preventable through safe drinking water and adequate sanitation and hygiene."
The country representative, who said that one in every three Africans is facing water scarcity, while about 400 million people in Sub-Saharan Africa alone lack basic access to drinking water, added that 45 per cent of all child deaths are associated with malnutrition, known to be linked to diarrhoea.
He said a heating world is seeing mosquitos spread diseases further and faster than ever before, with serious consequences for African countries.
He said 94 per cent of the 229 million malaria cases recorded globally in 2019 were in Africa,  and that deaths due to malaria in Africa accounted for about 51 per cent of all malaria deaths worldwide.
"In 2018, African health and environment ministers endorsed the 10-year Libreville Declaration on Health and Environment in Africa, signed in 2008, a WHO-supported framework aimed at promoting government investment in addressing environmental problems that impact human health.
"Under the auspices of this Declaration, we, as WHO in the African Region, support Member States to conduct vulnerability, situation and needs assessments, and to create Health National Adaptation Plans(H-NAPs).
"We also support countries to submit National Adaptation Plans (NAPs), comprising essential public health interventions, to the United Nations Framework Convention on Climate Change."
Chimbaru said many countries implemented Early Warning, Alerts and Response Systems (EWARS) to identify potential risks for climate-sensitive water- or vector-borne diseases.
According to him, with Africa's population projected to grow to 2.5 billion by 2050, there is an expected burgeoning urbanisation into areas exposed to natural hazards.
The Minister of State for Health, Dr Olorunnimbe Mamora, said that the effect of the COVID-19 and the climate change crisis unsettled the lives of many individuals across the globe.
Mamora said the virus was causing profound disruptions in the global economy, supply chains and economic growth, with Small and Medium Enterprises (SMEs) and entrepreneurs hard hit.
According to him, environmental crisis has led to worsening non-communicable diseases, enhancing an ecosystem where various infectious diseases foster, worsening air quality, food and water shortages, and deteriorating mental health illness.
He said that to the American Medical Association, "scientific surveys have shown clear evidence that  patients are facing adverse health effects associated with climate change.
"From heat-related injuries and forest fire air pollution to worsening seasonal allergies and storm-related illness and injuries.
"It is important that we make every effort to put environmentally-friendly practices in place to lessen the harmful impact that  climate change is having on patient's health across the globe,'' he said.
Mamora said the health impacts from climate change primarily affect the vulnerable and the elderly populations disproportionately.
The minister said that the ministry would reflect on the need for strategic ideas and priorities and implement the WHO air quality guidelines and shift the country toward a green economy by 2030.
By Cecilia Ologunagba and Franca Ofili