As part of activities to mark the 2018 World Health Day, Lagos-based international climate change development group, Climate Wednesday, took up the initiative called "Community Health Talk" to the grassroots by visiting a local community in Bariga Local Council Development Area (LCDA) in Lagos.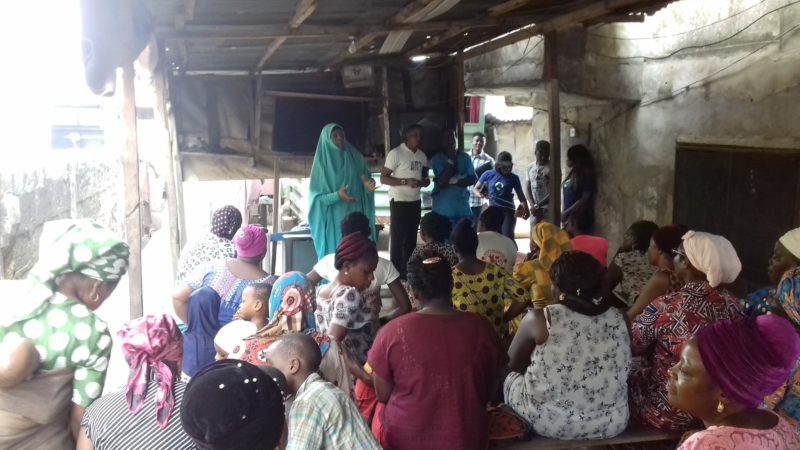 According to the organisation, the event was aimed at engaging the members of the community on health issues affecting them. The event took place on Saturday, April 7, 2018.
The four-hour forum had in attendance about people 50 people, including seven members of the Climate Wednesday team and over 40 members of the community.
The interactive event saw members of the Climate Wednesday team delivering messages to members of community on the importance of good health, reminding them of their right to good health, financing for health for all and the benefits of teamwork.
Project Manager at Climate Wednesday, Adenike Adeniran, gave an introductory note on the purpose of the event, even as Youth Engagement Officer, Azeezat Yishawu, gave the health talk, emphasising on the importance of team work and having reliable representatives in the community who can help them negotiate and demand for their rights from the concerned principals.
Community Engagement Officer, Babatunde Enitan, while buttressing the points made in the native Yoruba language for in-depth understanding by the audience, advised them to spread the gospel and ensure that they make their individual efforts count on health matters.
Team Mobiliser, Mr Daniel, gave a closing note to thank the participants and reiterated on the learnings of the event.
Some observations during the community health talk are listed to include:
The members of the community acknowledged that the Health Centre in the neighbourhood is not big enough to cater for the number of people in the community, even though they do not have any challenges with the quality of service there. They requested for more primary health centres to be built to prevent overcrowding.
No free drugs services as resident have to purchase drugs.
Residents requested for a birth delivery facility as the nearest obstetrics hospital is far away from the community.
They also complained about the delay in services rendered by the waste collectors. Their waste is piled up and afterwards scattered around, making the environment dirty due to the fact that the waste collectors do not come to collect the waste in due time. Poor sanitation and pick up of waste within the community is thus a cause for concern
Residents were further enlightened on the importance of forming small groups within the communities to attend challenges that they face. They were also informed of various government parastatals within their community which they can approach and table their demands and request for accountability. Finally, they were educated on the importance of personal and environmental hygiene; such as how to reduce their waste as well as proper disposal of waste.
Climate Wednesday wants the Bariga LCDA authorities to invest more into financing health at all levels and ensure budgetary transparency and accountability.