Youngsters have been turning plastic waste into arts and crafts. At an inter-school arts exhibition on Thursday, June 7, 2018 in commemoration of the World Environment Day (WED), students showcased their creative abilities with plastic waste products which they transformed into items like bags, baskets, dresses, wall decoration, hangers and chairs.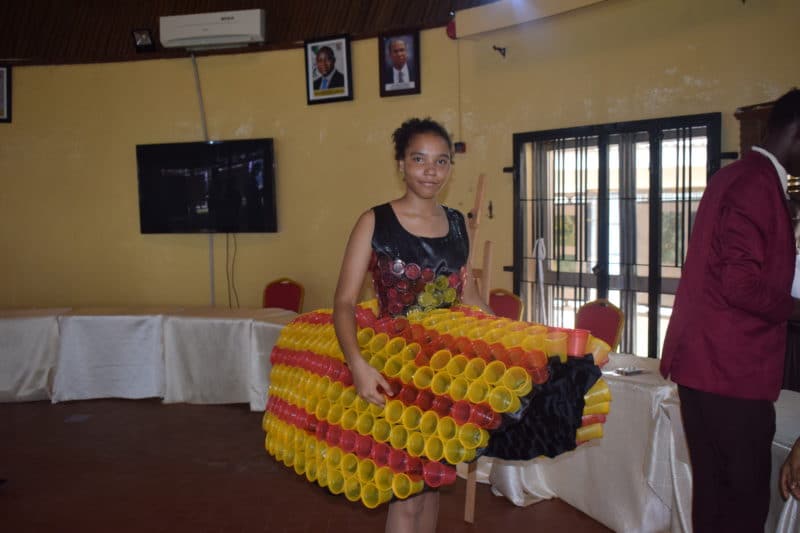 The children also learnt about ways the government and other stakeholders are helping to reduce plastic waste production and its adverse effect on people and the environment.
Organisers of the event, the Nigerian Conservation Foundation (NCF), likewise hosted key stakeholders in the plastic industries to a session of deliberation.
NFC boss and chairman of the occasion, Chief Ede Dafinone, in his welcome address, stated: "Most of the plastic waste generated comes from deliberate dumping of garbage into waterways and mismanaged waste disposal. More than 50% of plastic waste generated comes from inadequate management due to lack or infrastructure associated with an ever-increasing population."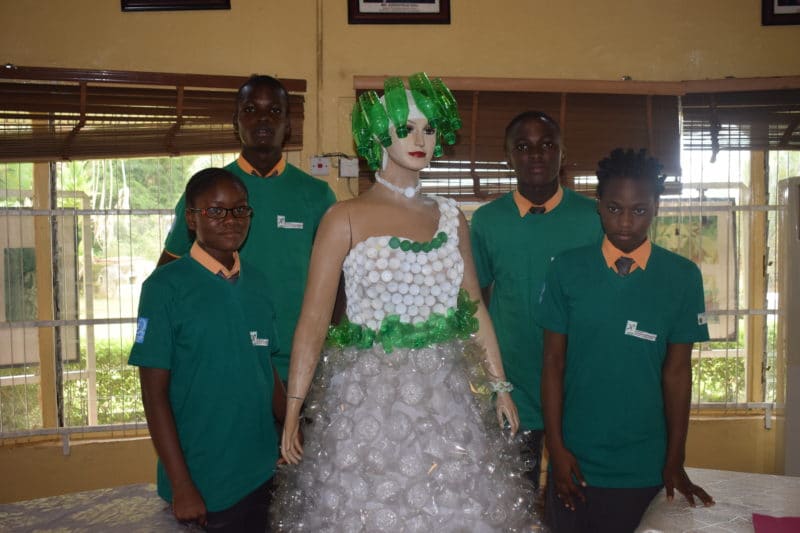 Chief Host of the day, the Director General of NCF, Dr. Muhtari Aminu-Kano, revealed: "Thirty million tonnes of plastics are produced annually all over the world, eight million tonnes find their way into the ocean, while the rest litter our streets; clog our drainages and some flying in the air, causing health problems."
Guest Speaker of the event, the Country Director, United Nations Information Centre, Lagos, Mr. Raymond Kayanja, made a clarion call on all parties, government, corporate organisations and individuals to come forth to stem the big challenge plastic is putting mankind through, saying that it may lead to serious consequences if not urgently checked.
Eleven secondary schools and seven primary schools (both public and private) across Lagos State participated in the art exhibition competition. The winners in the secondary school category are Mayors Height School, Epe Girls Senior Secondary School and Genesis High School as first, second and third positions respectively. While Refiners School, Genesis Primary School and Learning Ladder Montessori School emerged winners in the primary category as first, second and third positions respectively.
Present also at the event was environmental activist and Chairman of Lagos Urban Forest and Animal Sanctuary Initiative (LUFASI), Desmond Majekodunmi; Environmental & Regulatory Supervisor, Exxon Mobil, Uzochi Osondu; Group Head, IHS International, Jolomi Dudu; Divisional Head, Corporate Services, FCMB, Felicia Obozuwa; representative of Lagos State Ministry of Environment, Mrs. Titi Raji; MD/CEO, Recycle Points, Mazi Okonu; Vice President, Mandus Maris, Belgium, Prof. Stella Williams; CEO Fabe International, Temitope Okunnu; CEO iRead Mobile Library, Funmi Ilori; COO, Climate Smart Nigeria, Glory Oguegbu; and MD, Charyil Safari & Hospitality Ltd, Bukola Adekanye. They delivered speeches on how their organisations are addressing the plastic waste pollution menace.
The WED is an environmental awareness programme aimed at promoting environmental education, ingenuity, teamwork and general environmental friendliness among children and youths. The theme for this year, "Beat Plastic Pollution", urges all to adopt more than a single use of plastics.
NCF says it has over the years used the WED to grow environmental literacy among the youths and the students. "Avenue is usually created for the participants to individually or collectively develop solutions to current environmental challenges. The arts exhibition is an idea about up-cycling (converting waste plastics to arts and craft) rather than recycling," disclosed Aminu-Kano in a statement.
He added: "NCF encouraged stakeholders involved in the production and consumption of plastics, as well as the policy makers to jointly explore sustainable alternatives. Furthermore, to urgently reduce the production and excessive use of single-use plastics polluting our oceans, damaging marine life and threatening human health. Plastic pollution involves the accumulation of plastic products in the environment that adversely affects wildlife, wildlife habitat, and humans."
The event was sponsored by Exxon Mobil and supported by IHS Towers, First City Monument Bank (FCMB), Nigerian Bottling Company Plc and Nestle Water Nigeria.
The event held at the Lekki Conservation Centre in Lagos, which accommodates the NCF head offices.