In celebrating the 2020 World Environment Day, the Green Environment Network, Enugu on Friday, June 5 kicked off a campaign to plant over 1,000 trees in the metropolis.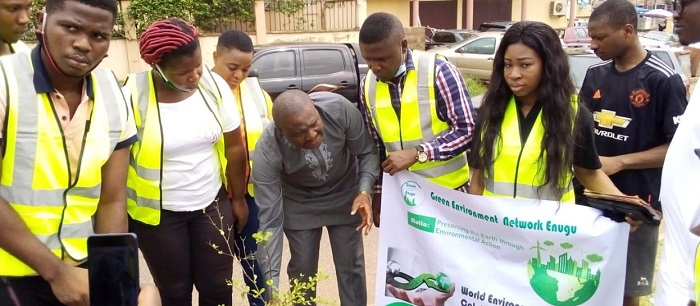 The flag-off of the tree-planting campaign was attended by top government officials including the state Commissioner for Environment, Chijioke Edeoga; the Senior Special Assistant to the governor on environment, Chief Oscar Ikeogu; and representatives from Albertina Nigeria, among other dignitaries.
In the build up to the tree planting flag-off, the Network enlightened the public on the importance of the initiative in tackling climate change and building sustainable cities; and on the adverse impact of poor solid waste management, pollution and other environmental practices on people's health and the ecosystem.
The Network, headed by Dr. Daniel Onyedikachi Ugwu, wrapped up the World Environment Day celebration with a webinar on the topic: "Biodiversity: The impact of poor waste management on ecosystem".
The Network is not just planting the trees, it has worked out a sustainability plan to ensure that the planted trees are protected and preserved. It is on this note that the residents of the catchment areas are being sensitised and encouraged to not just take part in the planting exercise but to personally and collectively own, water and nurture the trees planted to maturity. This way, community ownership of the project and the survival of the planted trees is ensured.
We believe that we must not just act. We have to act now! Time is important and the time is NOW!
The warm weather is increasing the number and range of ticks, midges, and mosquitoes – those that carry human disease, such as dengue fever, and those that don't but still kill wildlife and livestock. Crop-damaging pathogens are spreading, threatening food security.
Delaying efforts to mitigate either carbon dioxide or short-lived climate pollutant emissions will have negative, and potentially irreversible, consequences for global warming, rising sea levels, agricultural yields, and public health both in the state and globally.
Experts believe that due to their relatively short lifetime in the atmosphere, ranging from a few days to a few decades, short-lived climate pollutants respond very quickly to reduction efforts. This means that if we act fast to reduce these pollutants, it is likely that we could cut methane emissions by 25% and black carbon by 75%, and eliminate high-global warming potentials.

According to Climate and Clean Air Coalition, quick actions taken can help us avoid an estimated 2.4 million premature deaths from outdoor air pollution annually by 2030; slow increase in near-term global warming by as much as 0.6°C by 2050, prevent climate tipping points that can exacerbate long-term climate impacts and make adapting to climate change harder, especially for the poor and most vulnerable.
In 2015, UN Secretary General Ban Ki-moon remarked that "we are the first generation that can end poverty. We are also the last generation that can slow global warming before it is too late." Responding to this remark, while climate activism and advocacy has increased, the world is battling poverty, diseases and other global challenges occasioned by global warming.
Fortunately, youths constitute most of the population in many countries and have an increasingly strong social and environmental awareness, which has the power to transform our societies towards a low-carbon and climate resilient future.
Today, there are more than 1.2 billion young people aged 15 to 24 years, accounting for 16 per cent of the global population. It means that the active engagement of youth in sustainable development efforts is central to achieving sustainable, inclusive and stable societies and cannot be ignored if we must avert the worst threats and challenges to sustainable development, including the impacts of climate change.
We understand that the effort of youth is crucial to raise ambition of governments and other stakeholders to come to expedite and coordinate actions on climate change. We must strengthen both formal and informal education on environment and climate change and sustainable lifestyles.
In addition, sustainable production and consumption patterns must be promoted and youth supported as environmental champions in their local communities.
By Ikenna Ugwu (Social impact writer, sustainability advocate and member, Green Environment Network, Enugu)