Amid a dire poaching crisis, wild Asian elephants in Myanmar received what appears to be swift and essential aid from thousands of supporters of the World Wildlife Fund (WWF) who seem committed to protecting the iconic species.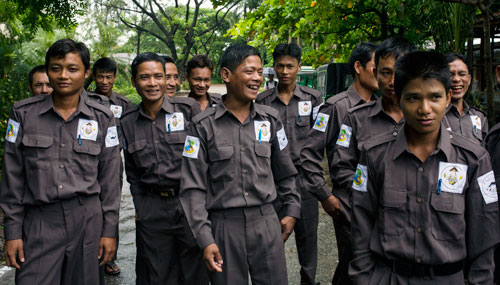 In a reaction to an urgent call in June 2017, over 3,000 people donated $263,211 in less than four weeks to fund an emergency action plan to train rangers and get boots on the ground to fight wildlife crime.
"Training rangers is the first step on our journey to win this battle against poachers," said Christy Williams, country director of WWF Myanmar. "Rangers are on the conservation frontlines, protecting the world's natural and cultural treasures. With their commitment and the help of our supporters, there is hope for Asian elephants."
There are fewer than 50,000 Asian elephants left in the wild, and fewer than 2,000 in Myanmar. For decades, they faced threats of habitat loss, human-elephant conflict, and, to a lesser extent as only male Asian elephants carry tusks, poaching to meet the demand for ivory.
However, they are now being killed for their skin and other body parts, according to the nature conservation group.
It adds that its emergency action plan to build ranger capacity and help combat the new elephant crisis in Myanmar began rolling out in July, 2017.
Williams lists the organisation's accomplishments in this regard to include:
Purchased a four-wheel drive vehicle and three motorcycles for patrolling
Purchased uniforms for rangers
Purchased equipment, including camping gear
Trained 45 field rangers
She states: "WWF's eight-day training provided basic but vital knowledge to 45 field rangers on a variety of issues including law enforcement methods and intelligence gathering. Rangers will now be able to collect and report on data, understand the biodiversity values in the landscape, identify and report illegal activity, conduct patrols, and manage and process crime scenes. WWF will continue to train these rangers so that all 45 rangers will be able to patrol the field by September."
The WWF is however seeking assistance to actuatise its "Back a Ranger" and "Adopt an Elephant" projects.
"We cannot do this alone. Our supporters are critical to our fight to protect Myanmar's elephants from threats like poaching. The launch of emergency plan to stop Myanmar's elephant poaching crisis is just one example of how – with our supporters by our side – we are protecting wildlife and tackling the world's greatest environmental problems," says Nilanga Jayasinghe, the WWWF Senior Programme Officer, Asian Species.
The World Elephant Day was observed globally on Saturday, August 12, 2017.