A German brand in sanitary fittings, GROHE, on Saturday, April 22, 2017 commemorated the World Earth Day through its commitment to innovative design with a focus on sustainability. In keeping with this year's theme for Earth Day: environmental and climate literacy, GROHE provided key tips for saving water, especially in Africa.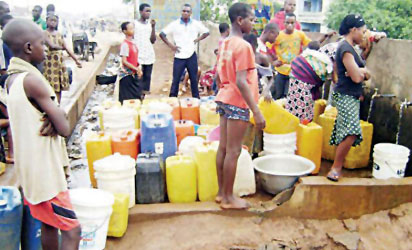 Statistics published by international development organisation WaterAid show that 695 million people out of the 1.2 billion total population of Africa are surviving without basic sanitation and 395 million people are without clean water. With Africa's population projected to be 2.2 billion by 2030, only 32% of sub-Saharan Africans will have access to sanitation by 2030.
According to WASHwatch, the collaborative monitoring platform set up by WaterAid, 57 million people in Nigeria don't have access to safe water, over 130 million people don't have access to adequate sanitation which is two third of the population and around 45,000 children under five years old die every year from diarrhea caused by unsafe water and poor sanitation.
For GROHE, sustainability is a corporate value with a tradition and a future. GROHE has developed a wide portfolio of advanced product technologies and launched also a series of awareness campaigns and programs to change mindsets and habits.
Since 2009, GROHE has launched the Green Mosque Initiative in many countries, whereby the company partners with local entities to install water-efficient products in the ablution rooms of mosques to help the respective regions achieve sustainable reduction in water consumption. Muslim worshipers' ritual ablutions consume between 10 and 15 litres of water per day. Every possibility to save water therefore has a great impact on consumption. As mosques play an important role in people's day-to-day lives.
The initiative has reduced water consumption for the cleansing rituals by roughly 30 percent which is good for the environment and helps cut costs.
"Water saving taps and showers and water saving flush systems are two of the main ways that everyday citizens can contribute to protecting the environment, and sustainability is one of the core values and a top priority in the creation of every GROHE product for bathrooms and from the design to development stages," says Mohammed Ataya, Vice President of GROHE Egypt, North and West Africa.
Mr. Ataya adds that "quality materials, first-class design and advanced engineering all play an important role in saving water. For example, the group's hand showers feature either an integrated flow limiter, or an Eco button or spray dimmer which lets you chooses when to reduce the water flow."
GROHE agrees with the Earth Day ethos that everyone needs to be empowered with the knowledge and the products to inspire action and protect the environment.
The individual choice to reduce water consumption is only one of the many strategies needed to address the issue of water scarcity but it gives each person a role to play in protecting the planet.