Nigeria over the weekend joined the rest of the world to observe the 2017 edition of the World Earth Day.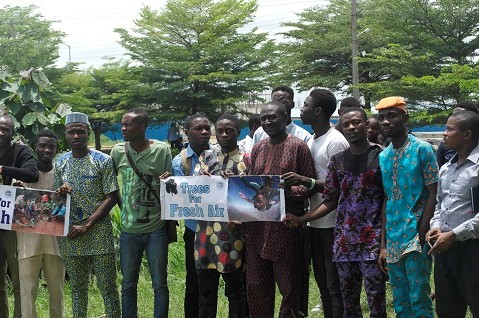 The Earth Day is a global event observed on April 22 to demonstrate and promote environmental awareness and calls for the protection of planet Earth. The theme for Earth Day 2017 is "Environmental and climate literacy".
According to observers, climate change is the most important public policy issue by reason of its negative impacts on economies, social lives, health and the future of children. They note that landmark Paris Agreement reached in December 2015 commits all countries to holding global temperature rise to "well below 2 degrees Celsius".
"This feat will require economy-wide global and national transformations. A robust, multi-sector response will be a key component of this solution to pivot societies toward a more sustainable future for all – the future we want," says Oluwatosin Kolawole, President of Climate Aid, a Lagos-based not-for-profit organisation.
He describes climate education is an essential element of the global response to climate change, pointing out that it helps young people understand and address the impact of global warming, encourages changes in their attitudes and behaviour and empowers them adapt to climate change-related trends.
Consequent upon that and in commemoration of Earth Day 2017, Climate Aid, in collaboration with other not-for-profit organisations such as Environmental Law Research Institute (ELRI), Nigerian Environmental Rights Advocacy Group (NERAG), Green Intelligence, Nature Protection and Environmental Improvement Initiative (NAPEIIN) and GreenEducate, with technical supports from the Centre for Environmental Studies of the Lagos State University (LASU), Centre for Planning Studies LASU, Parks and Gardens Unit LASU, and the faculty of social sciences, on Friday, April 21, 2017 hosted out a climate literacy training among 195 students, as well as a tree planting exercise around the campus.
"Students who participated were quite excited to take further actions in preservation their environment," stated Mr. Kolawole, adding that while the Lagos State Parks and Gardens Agency (LASPARK) provided the tree seedlings that were planted, the tree planting activity was led by the Vice Chancellor of LASU.
He discloses that, in furtherance of the group's Earth Day 2017 celebration, Climate Aid will visit the University of Lagos, Akoka on Thursday, April 27, 2017. He lists proposed lines of events to include: climate literacy workshop, Nature walks around the campus, and tree planting around the campus and the lagoon front.
"The Objective of our works is to raise climate change awareness among the students, and equip them with the right knowledge and tools to build their resilience to the impacts that climate change pose to their future," Kolawole states.
Similarly, the Abuja Environmental Protection Board (AEPB), in collaboration with some environmental not-for-profit organisations on Saturday, April 22, 2017 organised a sensitisation programme to educate Abuja residents on how to convert waste to wealth. The sensitisation programme was organised to commemorate the 2017 World Earth Day.
Mrs Dora Laniyi, Executive Director, Abuja Green Class, explained that celebrating the World Earth Day yearly was meant to send message across on the importance of the earth to human being.
Laniyi regretted that the natural earth resources had been destroyed instead of protecting them, thereby making the earth to become unfriendly to man.
Mr Amara Nwankpa, Director, Public Policy Initiative, Shehu Musa Yar' Adua Foundation and a guest speaker, said Nigeria was one of the countries most affected when it comes to a climate change issue.
Nwankpa explained that this was partly due to Sahara Desert encroachment which has extended into the country because the natural resources are not protected.
Mrs Nwal Fakhry, Manager, Environmental/Conservation, African Community Bridge Foundation (ACBF), who spoke on converting trash to cash, described improper handling of waste as a threat to the environment.
Fakhry added that waste was also a contributory factor to the climate change, adding that ACBF was established to create awareness on how to convert waste to wealth.
Mrs Omolola Olanipekun, Acting Director, AEPB, expressed delight on the response of FCT residents to the sensitisation programme.
Represented by Mr Muktar Ibrahim, the Head of Information and Outreach Unit of AEPB, she said the earth was no more human friendly because its ingredients had been destroyed by man.
Olanipekun identified noise pollution, gas emission, green house effects, erosion, receding of rivers as major human factors contributing to climate change.