An environmental group, "Let's Do It! Nigeria", has mobilised stakeholders to clear 249.63 tonnes of trash nationwide, to commemorate the 2018 World Cleanup Day (WCD).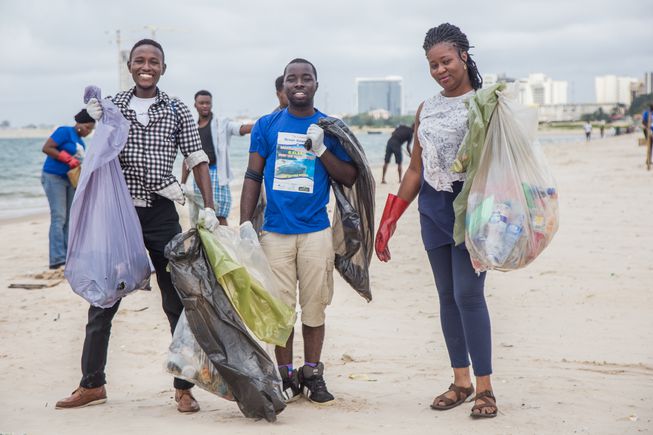 Publicity Manager of the group, Mr Gafar Olorunleke, made the disclosure in an interview with the News Agency of Nigeria (NAN) on Monday, September 17, 2018 in Lagos.
Olorunleke said that the group, in partnership with various environmental stakeholders, embarked on the cleanup over the weekend.
"The World Cleanup Day provided an opportunity to demonstrate how active citizens all over Nigeria can unite against trash and climate change.
"A total of 7,143 people participated in the project all over Nigeria with a total weight of 249.63 tonnes of wastes (226,458 kg) moved from the streets and drainages.
"The World Cleanup Day project is the biggest civic action in the world and in Nigeria as the project unites the key sectors of the society for a waste-free environment," he said.
The environmentalist said the group's aim for a waste-free Nigeria went beyond the commemoration of the WCD but to enlighten Nigerians on international best practices on waste management.
"The campaign is not only about cleaning up of waste, the project was aimed at enlightening the public about opportunities they can derive from the entire value chain of waste management.
"For the group, the cleanup was aimed at waking people's consciousness to the global trash problem.
"Our end goal is to engage key environment stakeholders at every level of the society in order to achieve the goals of zero waste in Nigeria.
"In particular it is to ensure that Nigeria attains a full circular economy."
Olorunleke revealed that the cleanup was warmly welcomed by various communities and market women, who participated in the exercise.
"According to the feedback we received from our cleanup locations, the market women were glad to know more about wastes and how much wealth could be realised from trash.
"One of the volunteers at the Ikorodu garage cleanup location, confessed that the cleanup has inspired him to develop a positive attitude towards waste," Olorunleke said.
NAN reports that the World Cleanup Day is commemorated annually on Sept. 15.
It began in Estonia in 2008 when 50,000 people united to clean up the entire country in just five hours.
The World Cleanup Day is currently being celebrated in over 150 countries of the world.
By Mercy Okhiade