The Executive Director, Green Janitor Sustainable Initiative, Mr Abdulsalam Ashade, on Saturday, September 19, 2020 urged people of Lagos State to keep their environment greener and cleaner.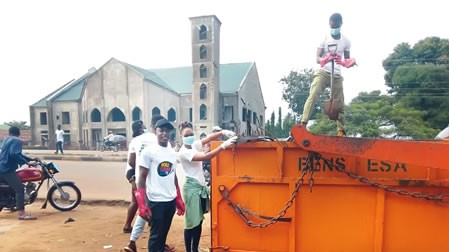 Ashade give the advice at a cleaning up exercise organised by the initiative to commemorate the World CleanUp Day in Badagry.
According to him, environment determines mankind's wellbeing and quality of life.
"It is the would Cleanup Day and the initiative being a youth-led organisation in Badagry thinks it is important for us to partake in the exercise.
"This is to send signal to everybody that it is our right to keep the environment clean.
"We are also using the avenue to sensitise our people to be conscious of how they dispose their wastes," he said.
Ashade advised people of Lagos State to desist from their nonchalant attitude and indiscriminate waste disposal.
"It is no longer news that Lagos generated the highest number of waste in the whole country.
"So, what I want people to know is that our actions toward the environment determines a lot of things that is affecting our wellbeing.
"For example, the flooding we had recently in some communities in Lagos were because of people's nonchalant attitude and indiscriminate disposal of waste, and were causing all these degradation of our environment.
"Lagos residents should be conscious of their environment and take it as part of their livelihood to make sure their environment is safe, green and clean for everyone to live," he said.
Ashade said that the Food and Beverage Recycling Alliance, Real Act of Kindness Foundation (RAK), Development Foundation and Geocycle Nigeria Ltd. partnered with the initiative to make the exercise a successful one.
Also, Ms Agharese Onaghire, the Executive Secretary, Food and Beverage Recycling Alliance, said the alliance had been working with the initiative in Badagry to mop up post consumers package rate in the town.
Onaghire said the alliance had successfully picked over 33,000kg of waste in Badagry communities.
"Today is World Clean Up Day, it is our collective responsibility to ensure that our environment is clean," she said.
In his remarks, Prince Olu Kosoko, the Chairman, New Badagry Forum, commended the initiative and the other companies for organising the exercise in Badagry.
Kosoko said he was happy to be part of the exercise to clean up his environment, adding that other youths should emulate them.
Members of the initiative and others moved round the ancient town, picking up waste and dropping them in the refuse vehicles for Lagos Waste Management Authority (LAWMA).
By Raji Rasak