The Environmental Rights Action/Friends of the Earth Nigeria (ERA/FoEN) has urged the Federal Government to be wary of a World Bank initiative to stop gas flaring by the year 2030, insisting that the scheme, if endorsed by the government, will legitimise continued flaring by Shell and other oil corporations operating in the Niger Delta.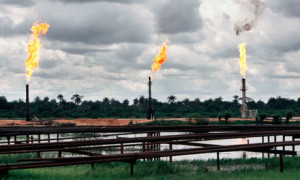 Media reports last week indicated that the World Bank initiative, coming on the platform of "zero routine flaring," is expected to bring together governments, oil companies, and development institutions who recognise flaring situation as unsustainable from a resource management and environmental perspective, and who agree to cooperate to eliminate routine flaring no later than 2030.
However, the World Bank dangles an opportunity for upstream investments and viable markets for governments that endorse the initiative and expects them to provide legal, regulatory, investment, and operating environments to key into the scheme.
Development institutions will facilitate cooperation and implementation, and consider the use of financial instruments and other measures, particularly in their client countries.
But in a statement issued in Lagos, ERA/FoEN described the World Bank initiative as an attempt to financialise and reward oil corporations that have fouled the air in local communities with a cocktail of flares and, like in the case of Nigeria, further extend the flare-out dates that oil corporations operating in the country have breached time and time again.
ERA/FoEN Executive Director, Godwin Ojo, said: "There is a subsisting gas flare-out date in Nigeria and we stand by that arrangement. The Federal Government must not subscribe to this hoodwink that will free oil corporations still flaring in the Niger Delta from their obligations to ending gas flaring immediately.
"We cannot accept this World Bank initiative that will open a door for oil corporations to dodge responsibility from their human rights abuses. The flare-out deadline drama in Nigeria started in 1979 extending to 1984 and 2007 and then 2008 and 2010. Shell and other oil companies that engage in the illicit flares will only latch on to this opportunity to propose new dates for ending flares that they have willfully breached with brazen impunity to the detriment of the communities where the flare stacks are mounted."
"Gas flaring is a violation of the fundamental right to life and healthy environment of local communities. This much was asserted by stand by retired Justice V. C. Nwokorie in a judgment brought against Shell by the Iwherekan Community Delta State, on the company's continued flaring in the community. At a Federal High court sitting in Benin and presided by Justice Nwokorie, he had on November 14th 2005 ordered Shell to stop gas flaring in Iwherekan by April 2007, saying it violates the fundamental right to life and dignity."
"The current administration has rolled out well with the take-off grant for clean-up of Ogoniland. It must remain resolute in tackling the Niger Delta pollutions and not allow itself to be led by the nose. The deadline on gas flaring must be enforced immediately. Muddling the flare-out issue with financial compensation for the polluters is an absurdity that is unacceptable. Gas flaring must stop immediately," Ojo insisted.