Shifting from the tradition of borrowing with collateral to fund housing, My Own Home scheme of the Federal Government, with a loan of $300 million from the World Bank, plans to make every Nigerian a homeowner.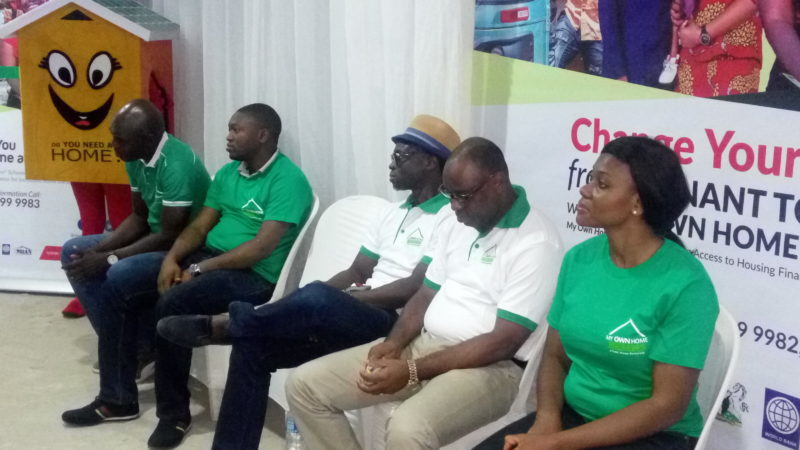 The scheme, which is about home-ownership, was flagged off in Abuja last month.
The loan will be repaid in 40 years.
In partnership with the Nigeria Police Mortgage Bank and other eight microfinance banks, the scheme is enabled by the Central Bank of Nigeria (CBN) and supported by Nigeria Housing Finance Programme (NHFP), Nigeria Mortgage Refinance Company (NMRC) and Mortgage Bankers Association of Nigeria (MBAN).
During a press briefing on Saturday, August 19, 2017 at the Conference Hall of Tejuosho Market, Yaba, Mortgage Finance Consultant of NHFP under the CBN, Mrs.  Nike Fasanya-Osilaja, noted the seeming fear among Nigerians over mortgage financing. This she attributed to the culture of stigmatising borrowing.
However, she said the campaign "is to educate every Nigerian that they have a right to own a home."
Pulling the press into partnership with the promoters of the scheme, she urged them to take the message to every nook and cranny of Nigeria.
Allaying fears of those who may think the scheme is another political gimmick, she said, "This is not another 419 scheme. Nigerians should know that it is okay to approach banks for enquiries, and even access mortgage loan."
The NHFP, she said, is a catalytic product which will positively affect several aspects of the economy.
Stressing that the scheme is different from other housing schemes of the past, she said: "Industry will drive this product. This programme is designed to assist the market to assist you.
"Once it starts, banks will take over, as CBN (the bankers' bank) won't deal with individuals."
She listed the four products in the programme viz refinance, mortgage guarantee insurance, microfinance and technical support.
President, MBAN, Adeniyi Akinlusi, said the project is a Public-Private Partnership (PPP) arrangement from the primary to secondary market.
He added that housing has a multiplier effect on economic growth by creating different kinds of jobs at every level of development. "The more money you put in the housing sector, the more jobs you create. And this trickles down to even curbing crimes, because deviants who are employed would see reason to become responsible citizens."
Reiterating the need for the press to take the campaign to the grassroots, the chief executive of TrustBond Mortgage Finance Bank said "with this programme, we can make Nigeria a place of our dream."
Restating the cliche that people should cut their coats according to their sizes, Ms Phyllis Uzoma of NMRC said "anybody who can pay house rent can equally own a home", as one can start by planning for a prototype of where they are living as tenant.
She maintained that everybody should own a home, "provided you are engaged in a decent activity that gives you money."
With this, she added, in no time, Nigeria will be ranked among developed economies.
Member, project administration team of NHFP, Badung Gyan, said responsible behaviour is important for the success of the programme.
He urged borrowers to behave responsibly in repayment of their loans, so that the loan can revolve and the programme sustained.
He disclosed that of the N300 million borrowed from World Bank, $10 million is for technical assistance.
According to Fasanya-Osilaja, there needs to be a paradigm shift in the industry. "We need to change from a demand to supply system to supply to demand, where people would go to banks first for enquiries before looking for property to buy. This is what happens in developed countries."
By Innocent Anoruo