The World Bank has announced an additional $600 million (about N216 billion) for projects in the Lake Chad Basin region devastated by the Boko Haram terrorists.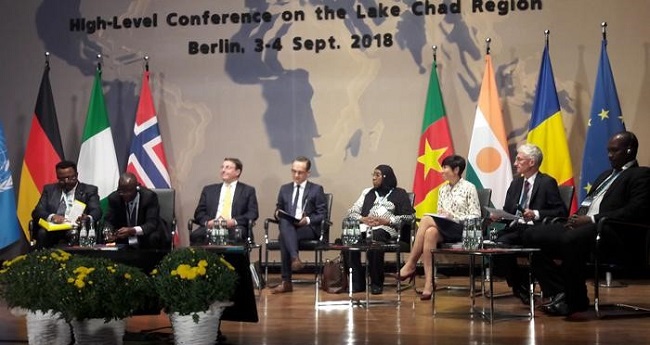 The bank made the announcement at the Berlin Conference on Boko Haram crisis, which held from Monday, September 3 to Tuesday, September 4, 2018 in Berlin, Germany.
The two-day high-level humanitarian conference was organised by the Governments of Nigeria, Germany and Norway, together with the United Nations.
The African Development Bank (AfDB) and the Islamic Development Bank also supported the Lake Chad Basin region with grants and concessional loans respectively.
The UN Emergency Relief Coordinator, Mr Mark Lowcock, thanked the banks and countries for their generous donations and supports in a series of tweets.
"Thank you WorldBank for your incredible support to Lake Chad Basin and for announcing an additional $600M for projects throughout the region!
"Many thanks AfDB for your grant of $35.65 million to the Lake Chad Basin as well as the announcement of $57.3 million in concessional loans," Lowcook said.
According to him, the Islamic Development Bank is supporting the Lake Chad Basin with $80 million in concessional loans.
The UN humanitarian chief also thanked Ireland for pledging €7.3 million; Sweden, £32 million; the Netherlands, £12.1 million; Italy, £15 million; and Poland, £230,000.
"I was so pleased to see the contributions from donors to development activities in the Lake Chad Basin through the UN Peacebuilding Support Office," Lowcock said.
The News Agency of Nigeria (NAN) recalls that the conference raked in about $2.52 billion in pledges and concessional loans, with Germany, the host country, pledging €265 million and Norway, $125 million.
The others were Switzerland, $20 million; France, €131 million; Belgium, €45 million; Finland, €2.3 million; and Denmark, $72.5 million.
NAN recalls that the United Kingdom pledged £146 million; Canada, Can$68 million; European Union, €231.5 million; Luxembourg, €40 million and Spain, €3.2 million.
By Prudence Arobani