The World Bank has visited the Alex Ekwueme gully erosion site which is threatening the Federal High Courts, Awka and other properties in the Awka Central Business District area, promising speeding intervention.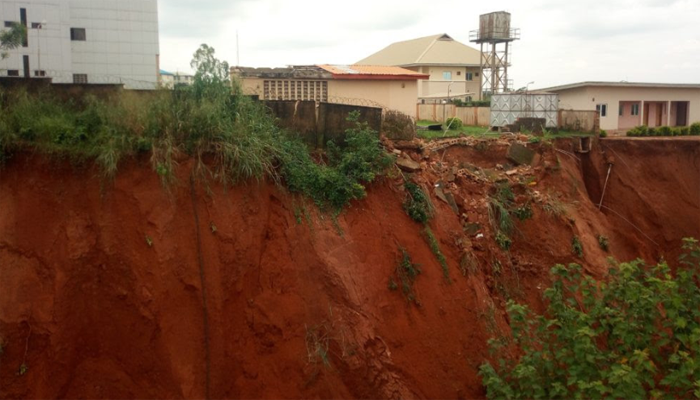 Mr Rachid Benmessoud, Country Director of the World Bank, led a team of the bank's officials to inspect the site on Sunday, September 30, 2018 for an on the spot assessment of the devastation the erosion had done to the area.
The World Bank has marked the site for rescue works through the Nigerian Erosion and Watershed Management Project (NEWMAP) in conjunction with the Anambra State Government.
The World Bank team was in Anambra for its Country Programme Portfolio Review in the South-East and South-South geopolitical zones.
The programme review is done annually in collaboration with the Federal Ministry of Finance to appraise the success of its interventions in the country.
Benmessoud said that work at the Federal High Court in Awka would commence between the end of October and early November after the formal process of documentation.
"This is the first time of our visiting Anambra State and we have seen the site, hopefully we will see to the process very shortly.
"This is an emergency case and we are concerned about what we have seen; we are not talking about starting this work in a matter of years, it is a matter of months to start work," he said.
Prof. Solo Chukwudobelu, Secretary to the Anambra State Government, who led the state's team, described the site at the Federal High Court as critical and needed urgent intervention.
According to him, we took the opportunity of the World Bank's visit to the state to show them the site and others, it is a critical intervention they are going to do for us.
"They are trying to fast track the process," he said.
Chukwudobelu said the gully erosion at the Federal High Court was developing daily, noting that the state government was pleased that the World Bank would fast-track the process.
He said that by end of October or early November, the contractor would move to site to commence work.
Justice Iniekenimi Oweibo of the Federal High Court commended the World Bank and Anambra Government for the intervention to save the court from imminent cut off.
"You can see for yourself that it is a threatening. We are about to be cut off. All along we have been praying for this intervention.
"Sometime ago, we met with the officials of the state government and they promised to come to our rescue. We thanked them for bringing this promise to pass," he said.
The visiting team also included officials of NEWMAP, State Environment and Economic Planning/Budget Ministries.
By Chimezie Anaso