Workers in Kwara State on Friday, April 28, 2023, demanded for safe and friendly work environments to boost their morale and productivity.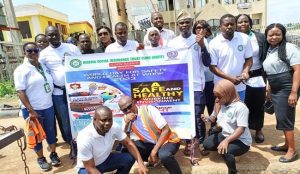 They made the demand in Ilorin, the state capital, during a walkout by the Nigeria Social Insurance Trust Fund (NSITF) members of staff to celebrate the 2023 World Day for Safety and Health at Work.
A civil servant, Mr Tayo Ige, said on the sidelines of the walk that the sensitisation by NSITF has raised more awareness amongst workers.
"With this rally and sensitisation, I will visit NSITF office on Monday. I want to know how it works,'' he ssid.
Another civil servant, Mrs Comfort Abiodun, said she would key into the services of NSITF.
"I want to know how they operate. I will visit their office next week. I will see how I can enjoy and benefit from their services," she said.
Mr Ademola Adewole, the Head of Health Safety and Environment, NSITF, in the state, had earlier advised workers to demand for safe, friendly and healthy work environment.
Adewole said the NSITF workers turned out massively to create awareness and sensitise public on need for workers to enjoy a safe and healthy working environment.
According to Adewole, the World Day for Safety and Health at Work is celebrated annually on 28 April to promote the prevention of occupational accidents and diseases globally.
He said NSITF provide employees with improved staff welfare, increased job satisfaction, increased employee morale, rehabilitation and return-to-work of injured employees, compensation payment and guaranteed workers security, among other services.
"We want to encourage balance of safe, healthy and appropriate working environment for workers in the country.
"Workers have right to safe and healthy working environment. Workers deserved the best and that is why we are calling on them to storm NSITF to secure a friendly and safety working environment,'' Adewole said.
The theme of the event, "A Safe and Healthy Working Environment, A Fundamental Right", witnessed a positive response from the public.
The workers held awareness banners and walked from Asa-Dam area through Taiwo-Unity- Challenge-Post office routes to sensitise workers.
By Toba Ajayi