The Women Initiative for Sustainable Environment (WISE) on Thursday, March 9, 2023, celebrated some women for their contribution to driving climate change mitigation and economic recovery in Kaduna State.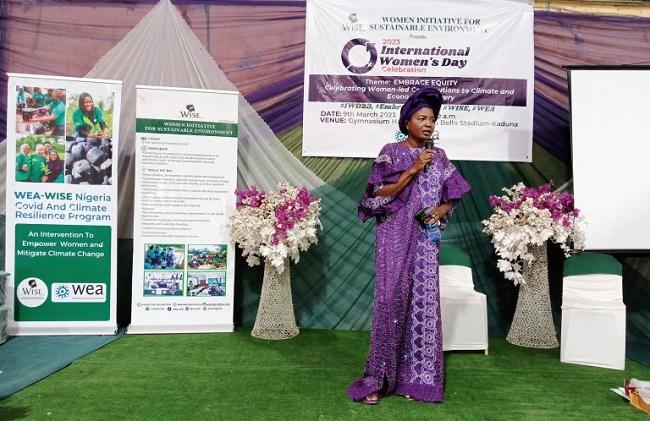 The women were recognised and celebrated at an event organised to commemorate the 2023 International Women's Day in Kaduna.
Mrs Olanike Olugboji-Daramola, WISE Founder and Programme Director, presented certificates and awards to women that were driving climate solutions in the state.
Olugboji-Daramola presented certificates to Imagine Empowerment Workshop participants, as well as awards and money gifts to the 2023 WISE Outstanding Green Persons, leading COVID-19 and climate resilience.
Mrs Precious Nnaedozie, Vice-President, Micromanna Ltd. Kaduna, received the WISE 2023 Outstanding Persons Award for Humanitarian and Philanthropic Leadership.
Also, Mrs Asibi Hassan, Head, Women Farmers Alliance Cooperative Society, received the WISE Outstanding Persons Award for Grassroots Organising and Voluntary Leadership.
The WISE Outstanding Award for Proficiency and Leadership in Green Enterprise Stewardship went to Mrs Patricia Ken-Dickens, a Director with the National Commission for Nomadic Education.
Similarly, Hajiya Binta Yahaya, Director, Green Land Fati Gold Services, maker of Fati Energy Clean Cookstove, received the Outstanding Persons Award for Exemplary Female Green Entrepreneur.
Also, Mr Ismail Isa, Head of Solar Thermal Department, Usman Danfodio University, Sokoto, received the award for Allyship in Women's Green Enterprise Development.
Olugboji-Daramola said that the celebration with the theme, "Embrace Equity" was organised to encourage and mobilise women to be at the front line of leading climate solutions and actions in the state.
According to her, women are the most affected by the impact of climate change and as such, must play a leading role in taking actions that will drive solutions to climate change at community level.
"Women empowerment and gender equity is a call to action between men and women. We must, therefore, team up.
"However, we need information about climate change to be able to bring about the desired change and progress in our society.
"WISE will continue to identify and partner with women in Kaduna State and beyond, to see that women take the lead in driving climate change solutions."
She urged women to tap into the opportunities provided by the digital age and become authors of their own change.
According to her, with women's access to technology, there is no more room for the narration of marginalisation.
Ken-Dickens thanked WISE for the recognition, stressing that when a woman mentors a woman, the unbelievable happens.
She said that she currently sells clean cookstoves in Bayelsa, Akwa Ibom, Cross River, Sokoto, Rivers, and Zamfara among other states across the country courtesy of WISE.
Similarly, Hassan, thanked WISE for the recognition, support, and capacity building of smallholder women farmers on smart agriculture to improve food production.
She disclosed that most of the members of the cooperative society currently practised backyard farming following the training on climate smart agriculture and promoting the use of clean cook stoves in communities.
On his part, Isa described the award as a "honour and rare opportunity" and urged women to keep leading the campaign on climate change solutions in their communities.
Other highlights of the event included dancing and singing competition, games like "read and act", surprise giveaways, and cutting of cake.
By Philip Yatai