Local women and youth in Olode community in Oyo State are to be empowered on aquamarine mining, under a programme aimed at ensuring that indigenous persons reasonably benefit from locally existing natural resources.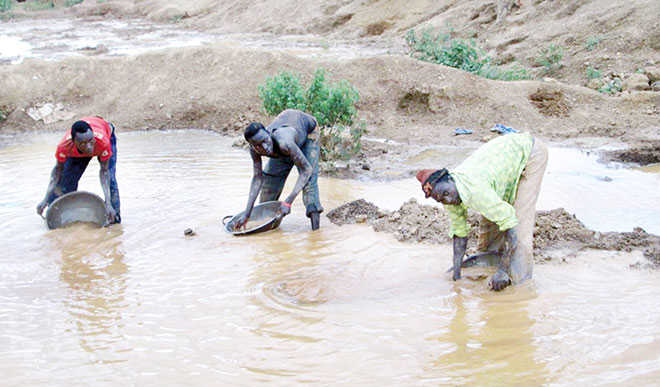 At a day-long forum organised by the Conservative Environmental Growth and Development Centre (CEGDEC) in support of Australian Aid, the local peoples' capacity will be built through cooperative and engagement in meaningful businesses and linkages around aquamarine mining. The forum, tagged "Local Economic and Social Development Initiative for Women and Youths in Olode Aquamarine Community, Oluyole Local Government, Oyo State", will on Wednesday, January 25, 2017.
Maryam Temitayo Olayeni, Executive Director of CEGDEC, explains in a statement made available to EnviroNews that the transformation in the mining industries worldwide targeted at creating wealth in the mineral industry has not been significantly recorded for a number of minerals in Nigeria, basically because the nation has not fully harnessed mining in wealth creation – even though the current national drive towards breaking the much dependence on oil has attracted the development of the solid minerals sector across the country.
"The Oyo State rich schist belt in mineral resources ranging from the semi-precious metals, precious metals, base metals and gemstones has therefore attracted many mining activities in the recent times. Olode aquamarine gems field of Oluyole Local Government has particularly received massive participation of artisanal and medium scale mining," she adds, adding however that the women and youths in the community have not fully benefitted as stakeholders, as there has not been significant social and economic development attributed to them from the aquamarine.
"They lack the skill and technology to process the gemstone, as well as marketing challenge. Therefore, they do not get good value on their stones in the supply chain on the long run. This project therefore would empower the local women and youths who in turn would build others' capacities on the long run. It would build their capacity through cooperative and engagement in meaningful businesses and linkages around aquamarine mining," Olayeni notes.
During the one-day workshop, she says, the community will be engaged in participatory group discussions, where best environmental mining practices and highlights of mining linkages will be addressed, so as to awake their potentials/strengths and not to impose knowledge/skills on them. Subsequently, through cooperative(s), those interested in mining would be assisted in registering legally for mining license, she discloses.
She further states: "Subject to funding, the endpoint is to have a target focus group interested in Gemology which would be trained in the cutting and processing of gemstones, otherwise called Lapidary. The training would also be complemented with modern Business Start ups methodology by Lean LaunchPad Entrepreneural approach. This project aims at filling this gap of value addition to the aquamarine, and for other gems processing in the future. They would be introduced to trading houses for exportation of the gems at the end, thereby increasing women's participation in mining.
"The CEGDEC is playing the role of technical assistance and training capacity to facilitate development and operation of infrastructure in this mining community through this innovative pilot project; with the support of the Australian Government. This is an opportunity identified to make a difference, create and support positive changes in our local communities.
"The initiative on Local Economic and Social Development in the Extractives took its genesis from the capacity building programme of the Australian Government through the Australia Awards Africa programme. The course which gave exposition and shared expertise on Australia's mining industries, known as one of the most efficient in the world. It taught leveraging on transformation of natural resources for economic and social benefits cum development.
"Therefore, Nigerians are urged to take advantage of the present downturn in the Oil & Gas sector for good by identifying, sustaining and promoting local business start ups as well as small and medium enterprises (SMEs), as we look inward and get values from our abundant resources. We need to harness our resources, grow our economy and provide economic and social benefits for our people, as in Australia's case."