The Edo State Chapter of the Medical Women Association of Nigeria (MWAN) has stressed the need for regular washing of hands in order to check the spread of Coronavirus.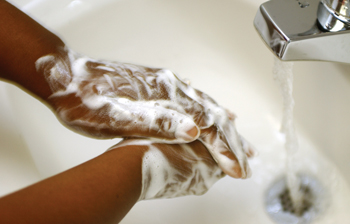 Dr Adesuwa Urhoghide-Edigin, the state President of MWAN, disclosed this in a statement issued in Benin City, the Edo State capital, on Thursday, October 15, 2020.
"This year's Global Hand Washing Day is very important, following the Covid-19 pandemic stunning the world.
"We were in over 15 schools today to educate the students on the best techniques to use in washing hands.
"Hand-washing is one of the best ways to protect yourself and your family from getting sick or contacting COVID-19 and it can keep you healthy.
"It can help in preventing the spread of respiratory and diarrheal infections from spreading from one person to the other.
"Germs and viruses can easily be contacted from other people or surfaces when you touch your eyes, nose, and mouth with unwashed hands.''
Urhoghide-Edigin said it can also spread through blowing of nose, coughing or sneezing into hands and then touch other people's hands or common objects.
"You can help yourself and your loved ones to stay healthy by washing your hands often, especially during these key times when you are likely to get and spread germs.''
She said washing of hands with soap and water is the best way to get rid of germs and viruses.
She emphasised that washing of hands has come to stay and must be part of our way of life even in post COVID-19.
By Ruona Isikeh