Women farmers under the auspices of Smallholder Women Farmers Organisation in Nigeria (SWOFON) have called for review of the Land Use Act to adequately protect their rights to own and control land.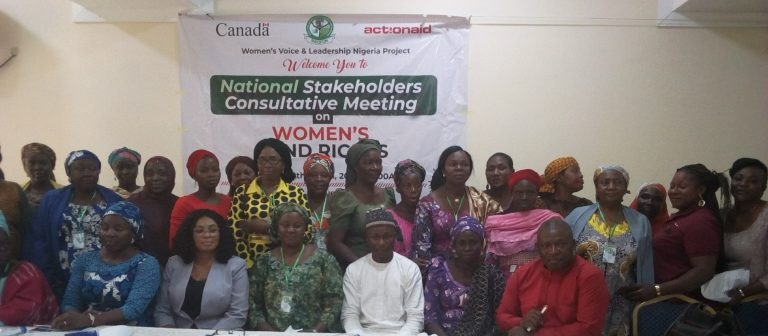 President of the association, Mrs Mary Afan, who made the call at the end of a two-day consultative meeting in Abuja, decried marginalisation of women farmers.
Afan stated that though small holder women farmers accounted for over 70 per cent of farmers in Nigeria, they operated under unfriendly conditions.
She said that it was disheartening that women, who formed the largest population of farmers who put food on the table of Nigerians, are not adequately catered for.
According to her, customary laws, religious guidelines and traditional practices among others, have for several decades deprived women farmers from accessing and controlling land resources.
She stressed that, for women farmers to reach their full potential, their rights to own land must be fully protected from laws that often inhibited their growth and preventing them from contributing fully to national development.
Afan attributed some of the reasons why women could not access or control land in the country to some traditional practices not favourable to women.
"Women have suffered marginalisation for a long time and it is time our rights were considered as human rights.
"In most cultures in the country, women are not allowed to inherit land and in situations where women find money to buy land, they are not allowed to do that in their names.
"They are forced to buy land in their husbands' names or any of their male children's name.
"If you buy land in your husband's name and you get divorced for instance, what happens?
"Even, where they get these lands on lease, they are either given unfertile land or forcefully evicted before expiration of terms of agreement with the owners of the land," she said.
Afan further said: "These are some of the very painful challenges we face as women farmers despite the sing praising which we feel is mockery because in the real sense we live with our challenges.
"In gatherings, we are praised that we feed the nation but to attend to our problem is a big challenge."
She said it was high time traditional practices, land policies and the Land Use Act were reviewed to capture the needs of women, particularly women farmers.
The president stressed that despite challenges of getting relevant authorities to walk the talk, they would not relent in their struggle until their needs were met.
"We will continue to keep hope alive, that we will eventually get there especially from the assurances we have received in the stakeholders' meeting.
"As part of efforts to drive our demands further, we will visit the National Assembly for the issues to be legislated upon to give us clear cut legal backing.
"The society needs our contribution in all ways for a stable and robust economy."
Ms Constance Okeke, an official of the Action Aid International, one of the major sponsors of SWOFON, said that the body had been working with women farmers in Nigeria for some years now.
She said: "We are here to support SWOFON which is part of the Women Voice and Leadership Project of Action Aid.
"Basically, the idea is to interact with stakeholders to see the status of women land right in Nigeria.
"Within the policy what is being done, what are the gaps, challenges and how that can be addressed so that women farmers in Nigeria especially in the FCT should be able to have access to adequate land for production.
"While we are helping them to find answers to the issue of their right we are trying to build their capacity to know more about their rights, the barriers affecting their land right."
She noted that moving forward in the new project with SWOFON, the idea would be to use lessons from previous projects to engage community chiefs, opinion makers and other relevant players, to see how issues of women's rights could be tackled.
Okeke stressed that even if the 1999 Constitution stated that everybody was entitled to land, and the practices at the grassroots level were not addressed, women's rights would continue to be trampled upon.
She expressed optimism that their efforts at achieving that would not be wasted, pointing out that previous efforts in that direction yielded positive result in some communities.
She urged the women representatives that came for the meeting to take information garnered to their various cooperative groups to sensitise the women on their rights not just as women but as humans and as citizens of the country.
Alhaji Kamal Shuaibu, Council Secretary, Abaji Area Council, who represented the Chairman, Abdulrahaman Ajia, said it was high time the society began to appreciate the effort of women farmers in feeding the nation.
He said that it was important for relevant stakeholders at different levels to encourage women whole playing critical role in helping women have access to land, which he said was a major capital in farming.
"We need to send this message to the grassroots to change some draconian customary laws stopping women from making use of their full potential.
"In the council we are doing our best to ensure that women are carried along. We also try to avoid women marginalisation.
"The stakeholders' meeting was attended by lawmakers, government functionaries, private organisations, and non-governmental organisations (NGOs), among others.
They assured SWOFON of their support to ensure they had access to land.
By Cecilia Ijuo