The International Union for Conservation of Nature (IUCN) has recommended withdrawing in-danger status from Comoé National Park in Côte d'Ivoire after seeing chimps and elephants return to the park.
The nature conservation body also recommends the Landscapes of Dauria in Russia and Mongolia to become a new World Heritage site. This advice is included in a set of reports for the World Heritage Committee, issued on Friday, June 2, 2017 by the United Nations Educational, Scientific and Cultural Organisation (UNESCO).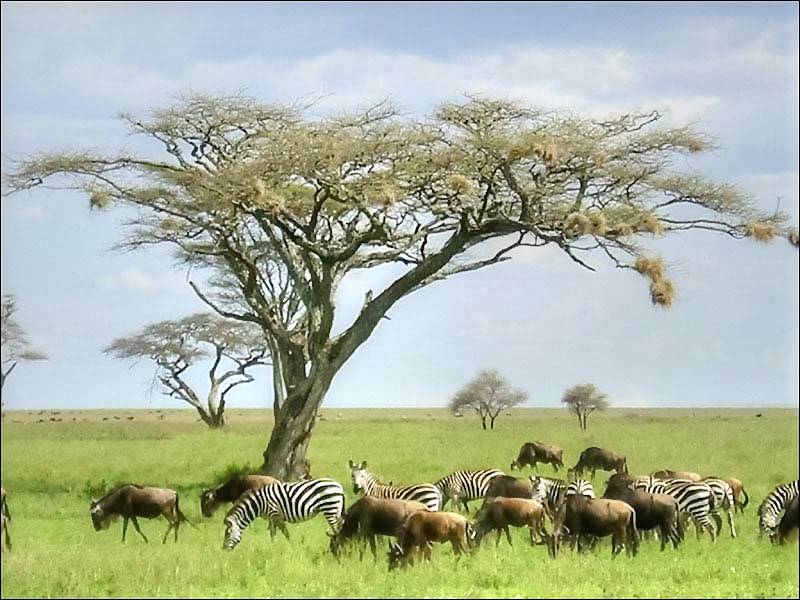 Situation improving in Ivoirian site in danger
Inscribed on the Danger List since 2003, Comoé National Park in Côte d'Ivoire has been facing threats such as poaching and illegal gold mining, fuelled by political instability. Since the country's situation stabilised in 2012, conservation efforts have succeeded in improving populations of species, including elephants and chimpanzees, which were thought to have disappeared from the park. Following a monitoring mission to confirm improvements, IUCN recommends removing the site from the Danger List.
The List of World Heritage in Danger is a mechanism designed to mobilise urgent action to tackle severe issues that can damage the outstanding values of World Heritage sites. Out of 238 sites listed for their natural values, 18 are currently listed as "in danger". These include iconic places such as Virunga National Park in DR Congo, Tropical Rainforest Heritage of Sumatra in Indonesia and Everglades National Park in the USA.
Threats continue in iconic sites
A total of 55 natural World Heritage sites have been monitored for the World Heritage Committee this year by IUCN, together with UNESCO's World Heritage Centre. The recommendations issued on Friday propose measures to tackle threats in iconic natural World Heritage sites, including the Great Barrier Reef in Australia and Białowieża Forest in Poland and Belarus. More reports are due to be released next week.
Implementation of Australia's 2050 plan to conserve the Great Barrier Reef is progressing, but more needs to be done, according to the recommendations. The report confirms climate change continues to be the most serious threat to the site. Coral bleaching events that have impacted the reef and other coral World Heritage sites in 2016 and 2017 highlight the need for action to tackle climate change beyond the national level.
The Great Barrier Reef is the largest coral reef system on Earth, hosting many threatened species such as the dugong and the large green turtle.  A substantial report on the condition of the site is expected to be made in two years time, which the World Heritage Committee will consider in 2020.
Among the sites that are vulnerable to serious threats, eight require urgent measures, without which danger-listing could be considered in the near future.
If Poland continues to undertake wood extraction and logging in old-growth areas of Białowieża Forest, intact habitats and species will likely be disturbed, says the IUCN, adding that this could provide the basis for listing the site as "in danger" in 2018.
The European Commission recently expressed concern over the removal of 100-year and older trees from the forest, which is also a Natura 2000 site. Inscribed as a cross-border World Heritage site in Poland and Belarus, Białowieża is one of the few remaining primeval forests on the European continent.
Natural sites where IUCN's recommendations mention possible danger-listing in 2018 also include Plitvice National Park in Croatia, where housing is fast developing to cater for increasing numbers of tourists, and Dja Faunal Reserve in Cameroon, which is affected by impacts from a dam currently being filled, as well as elephant poaching. The Sundarbans in Bangladesh, Doñana National Park in Spain, the Golden Mountains of Altai and the Natural System of Wrangel Island Reserve, both in Russia, and Coiba National Park and its Special Zone of Marine Protection in Panama are the other sites proposed by IUCN for possible danger listing in 2018, if urgent actions are not put in place.
The IUCN has also evaluated 13 proposals to inscribe new areas, or extend and modify natural areas already on the World Heritage List. In evaluation reports released on May 19, 2017, IUCN recommends inscribing three key habitats for species conservation as natural World Heritage sites in Argentina, Benin/Burkina Faso and China. On Friday, IUCN recommended one further site for inscription.
The Landscapes of Dauria constitute an outstanding example of steppe ecosystem, spread across Mongolia and Russia. The site provides key habitats for rare animal species such as the Endangered tarbagan marmot, the white-naped crane, the swan goose and millions of migratory birds. It is also the only place known in Russia where the Mongolian gazelle breeds.
The recommendations on proposed inscriptions and on action to tackle threats will be debated at the World Heritage Committee meeting, which this year takes place in Kraków, Poland, from July 2 to 12. The IUCN is the advisory body on nature under the World Heritage Convention responsible for providing technical advice. The World Heritage Committee takes the final decisions.