Rescue workers evacuated a total of 1,025 people to safety from homes and hotels as a wildfire raged in the southern Turkish province of Mersin, the country's disaster authority AFAD said on Thursday, September 8, 2022.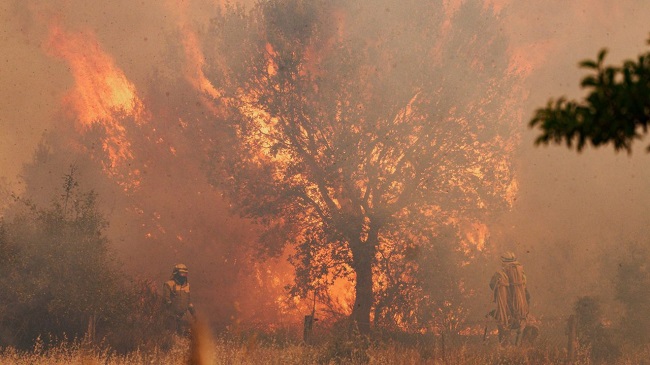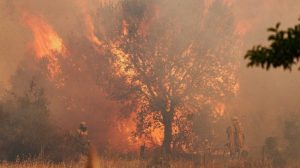 Forty firefighting aircraft and 850 personnel joined efforts to contain the wildfire, which started near Mersin's Gülnar district along the Mediterranean coast, AFAD said.
Seven people are currently receiving treatment at the hospitals, it reported.
The highway line, connecting Mersin and the tourism hotspot of Antalya to the west, was interrupted, AFAD added.
Images from broadcaster NTV showed dense smoke rising from a wooded hill. Strong winds made firefighting efforts harder, NTV said.
Turkey has been struggling with unprecedented forest fires recently.
Last summer, massive blazes destroyed thousands of hectares of woodland throughout Turkey, with the Aegean and Mediterranean coastline the worst affected.
Similarly, a wildfire ignited on Tuesday displayed extreme fire behaviour on Wednesday, prompting mandatory evacuations including in Foresthill, a town of about 1,500 people in US.
The fire sent up a large smoke plume visible from many counties in Northern California.
As of Wednesday, at a local time at 4.03 p.m. (0003 GMT Thursday), the Mosquito Fire had charred 4,223 acres (17.1 square kilometres) and was zero per cent contained.
This is according to the Fire Integrated Real-time Intelligence System (FIRIS), which is a state programme that gathers aerial data on wildfires.
Pictures posted online showed that a huge, mostly vertical plume of light-coloured smoke from the blaze could be seen from numerous Northern California counties.
The Mosquito Fire is the latest huge wildfire started in the Golden State, where at least three other wildfires had scorched about 20,000 acres (80.9 square kilometres) of land.
The Mill Fire, which started near Weed in Siskiyou County on Friday, about 400 kilometres north of Foresthill, was 3,935 acres (15.9 square kilometres) with 65 per cent containment as of Wednesday morning.
The California Department of Forestry and Fire Protection (Cal Fire) reported.
Two civilian women ages 66 and 73 were killed in the fire and three others were injured, local authorities said.
In addition, more than 90 structures had been destroyed while 900 residents remained evacuated as of Wednesday.
The Mountain Fire, burning west of the Mill Fire, was 30 per cent contained at 11,690 acres (47.3 square kilometres), Cal Fire said on Wednesday.
The fire was also sparked on Friday.
In Southern California, Cal Fire said the Fairview Fire has grown to 5,000 acres (20.2 square kilometres) with five per cent contained.
Authorities said the Fairview Fire had also killed at least two civilians.