Promoters of the Mangrove Marathon, a 10km awareness run, have said that the programme was informed by the desire to save mangroves from threats arising from human actions.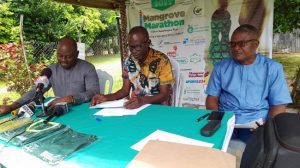 They said at a media session on Friday, June 3, 2022, in Warri, Delta State, that the event is designed to create awareness on the uniqueness of mangroves and the need to preserve them.
"The Mangrove Forest is one unique gift of nature and has been described as nurseries of life. Nigeria has the largest of it in Africa and the fourth largest in the world with the bulk of it laying in the Niger Delta and Lagos. Millions of people depend on it for food, shelter, income, medicine, and protection from coastal erosion," Jerry Chidi, Managing Director, Mangrove Marathon, said.
He added, however, that the mangrove forest faces unprecedented threats arising from human sources including oil pollution, overexploitation, invasive species, and municipal development.
"To save the mangroves, awareness is key. Since marathons are awareness/publicity events and are emblematic of good health which can only be sustained in healthy environments, we wish to use it to generate massive awareness about our environment, especially about our mangrove ecosystems. This awareness brings to limelight the uniqueness of our Mangrove Heritage and other Earth's Life-Support Systems and makes a case for their protection, conservation and restoration," Chidi disclosed.
He went further: "Mangrove Marathon will create the space for environmental awakening to happen and this wouldn't be in the confines of a conference room but in a 10 km stretch of space, visible to millions within and outside the city. What we aim for is the domino effect; we start the enlightenment conversation, and it spreads.
"Mangrove Marathon will take place every year on July 26, the International Day for the Conservation of the Mangrove Ecosystems. Any Mangrove bearing state can host it. The objective of Mangrove Marathon is to foster Ecological Literacy."
According to him, Mangrove Marathon aims to:
Build social capital/networks for Mangrove Conservation
Create environmental consciousness in many persons
Gainfully engage the youth and promote peace
Showcase the beauty of the mangrove ecosystem thereby promoting eco-tourism and environmental friendliness
Boost the formal and informal economy of host city
Provide a platform for everyone to participate in environmental sustainability, which is the responsibility to conserve natural resources and protect global ecosystems to support health and wellbeing, now and in the future.
The maiden edition of Mangrove Marathon will be held in Warri, Delta State, which is located within the Niger Delta region and hosting the second largest mangrove forest in Nigeria.