To avoid the worst effects of climate change, the Intergovernmental Panel on Climate Change (IPCC) recommends the reduction of global greenhouse gas emissions by 2030 and achieving net-zero emissions by 2050.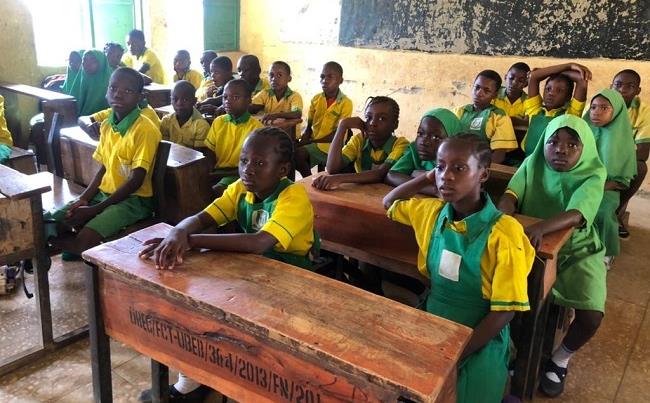 However, most countries are not on course to fulfill these targets, and in some cases could be out of ignorance. Therefore, it is critical to increase knowledge about climate change issues and how to mitigate its effects as soon as possible. More people will participate in climate action if they are well educated to help achieve emission reduction targets.
Children are an important demographic to educate not only because they would be able to transmit such knowledge in their households and build a more aware population but also because they are disproportionately vulnerable to the impacts of climate change.
The Children's Climate Risk Index (CCRI) is the first comprehensive report to assess climate change risk to children. The assessment reviewed children's exposure to climate and environmental shocks such as heat waves and their sensitivity to them based on their availability of vital services.
Nigeria, along with Chad, is placed second among these countries, just ahead of the Central African Republic ranked first. According to a United Nations Children's Fund (UNICEF) assessment in 2020, nearly half of the world's 2.2 billion youngsters live in one of the 33 "very high-risk" countries. Young people in Nigeria are among those most vulnerable to the effects of climate change, which jeopardises their health, education, and safety.
The report concluded that Nigerian children are particularly vulnerable to air pollution and coastal flooding but that investment in social services, notably child health, nutrition, education, and help protect their futures from the effects of climatic disaster.
It is important to note that the consequences of climate change are more severe in developing countries, even though people there are less culpable for the situation and have less capacity to prepare for and adapt to it.
Many African generations in the future will face a grave threat from ecological changes, which have immediate and long-term consequences for their physical and mental health. Climate change is the defining challenge of the next era, and any chance of addressing it requires young people to acquire the knowledge and skills needed to care for the environment.
Sustainable Development Goal 4 calls for quality education and aspires to ensure that all people have access to high-quality education and that lifelong learning opportunities are available.
According to United Nations, Educational, Scientific, and Cultural Organisation (UNESCO) 2021, climate change education helps address and develop effective responses to climate change. It also assists students in comprehending the causes and effects of climate change, how to cope with it, and taking necessary steps toward adopting a more sustainable lifestyle.
Also, it aids policymakers in understanding the need for developing methods and plans to tackle climate change on both a national and global scale and assists communities in learning about the effects of climate change on their livelihoods (vulnerability), developing methods for mitigating outcomes (adaptation), and reducing their carbon emissions and climate footprint (mitigation).
The global community understands the necessity of climate change education and training, which is why the United Nations Framework Convention on Climate Change (UNFCCC) coined the term "Action for Climate Empowerment."
The idea is to describe activities carried out under Article 6 of the Convention (1992) and Article 12 of the Paris Agreement that its overarching purpose is to empower all members of society to engage in climate action through activities such as; education, training, public awareness, public involvement, public access to information, and international cooperation.
Climate change education is critical to building a climate-smart generation. So, climate change education should be integrated into all levels of children's education, starting from early childhood to tertiary levels.
According to a document published by UNESCO, there are good country examples of climate change education that may inspire others in their future efforts to place environmental safeguard at the centre of educational content and practice.
In recent years, Indonesia has enacted several laws and regulations on climate change and has included the subject in its development goals. In 2013, the country revised its national curriculum framework to include climate change as a core competence for elementary school pupils, listed as part of the knowledge that students must acquire.
Also, its ministry of Education and Culture hosts climate change events, such as the annual Climate Change Education Forum & Expo, which focuses on climate change education issues and gives opportunities for schools and educators to network.
The Republic of Korea, in Eastern Asia, implemented several important education governance policies and climate change projects. For example, in 2010, it passed the framework act on Low Carbon Green Growth (LCGG), which clarifies the government's role in climate change education.
A decade later, the country released its third Environmental Education Master plan (2020), which places heavy emphasis on climate change. Furthermore, since 2007, its national curriculum frameworks have included climate change education at all levels, including preschool.
The Education for Sustainable Development (ESD) programme in South Africa is primarily concerned with teacher professional development to improve the teaching of the environmental education and sustainable development curriculum. Additionally, the initiative intends to provide education for sustainable development materials for schools and communities; and increase community capacity to begin and implement environmental education and programmes.
Aside from teacher education, numerous countries coordinate to ensure that school infrastructure reflects national ESD interests. Improvements to school buildings and the "greening" of schools were prevalent, as shown in the Dominican Republic and Kenya's School Garden Initiative (SGI).
In the Dominican Republic, for instance, the SGI is carried out with the collaboration of the Ministry of Agriculture, which provides schools with the resources, materials, and guidance needed to improve their gardens. The programme aims to create in students respect and care for nature.
In Morocco, the integrated program to foster environmental education and sustainable development has allowed the realisation of pilot projects in ecological facilities at schools.
In Peru, the Ministry of the Environment collaborates closely with its counterpart in Education through the national youth secretariat to provide services relevant to the national youth policy through the training programme for environmental action. It has designed an exercise in environmental education in which it trains young people from Peruvian state-recognised youth organisations.
Yet not all schools in Nigeria include climate change education in their curriculum or extracurricular activities. And, where applicable, what they teach them about climate change might not be relatable to their environment concerning how to prepare and respond to certain types of disasters most likely to occur in their geographical regions.
Poor climate change education and the increased availability of misinformation online make it harder for children and young people to distinguish between fact and fiction around the climate change saga.
Given the effects of climate change in Nigeria, and with the understanding that most Nigerian public schools lack resources and information about their environment and climate change, it is pivotal to incorporate this knowledge into both the formal and informal school setting through modifying curriculum and training teachers who would, in turn, educate schoolchildren as a means to make them comprehend, and participate in the global discourse, and better prepare them to address climate change and environmental concerns that are unique to their regions.
Considering this, Clean Technology Hub (CTH) has arranged training for climate action among students in Nigeria, and it's currently working with existing school clubs to promote the subject of green energy.
To catch them while they are still young, CTH has created an e-Learning Academy, a digital collection of video-based learning resources out together into modules and series that cover a wide range of renewable energy and sustainability subjects.
Also, the Adopt a School Programme is an initiative of the Clean Technology Hub that aims to close the knowledge gap in schools about climate change by increasing the students' knowledge of climate adaptation by forming STEM-focused green clubs that will promote climate actions using schools in Nigeria as a vehicle.
This project targets students in primary and secondary schools throughout the country and empowers young people with the knowledge and skills they need to contribute to a safe and sustainable future while ensuring that such initiatives reach marginalised people.
By Onyekachi Chukwu, environment & climate action associate at Clean Technology Hub