Speaking on the Global Launch of the Liability Roadmap to Make Big Polluters Pay on Tuesday, September 15, 2020 in Lagos, Akinbode Oluwafemi, Executive Director of Corporate Accountability and Public Participation Africa (CAPPA), explains why Big Polluters should put people's well-being and the well-being of the Earth and its ecosystems above expansion, extraction, and profit making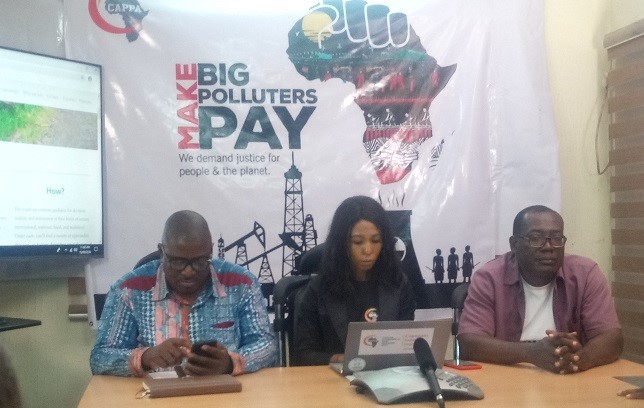 Today, Corporate Accountability and Public Participation Africa (CAPPA) joins the global climate justice movement to launch the Liability Roadmap to make Big Polluters Pay for their environmental harms and climate change.
The Big Polluters that the Liability Roadmap aims to put in check include the oil, gas and agribusiness industries that have profited richly from the environmental chaos in our land and across the globe and are driving climate change and undermining attempts to address it.
These industries' abuses have not only knowingly fueled the climate crisis, their actions have also undermined progress to address it including at institutions like the United Nations Framework Convention on Climate Change (UNFCCC). They have willfully delayed action, costing lives and hundreds of billions of dollars in damage.
As with other sectors affected by the COVID 19 pandemic, the Big Polluters are now attempting to profit from the pandemic, demanding government bailouts and rolling out PR schemes that paint them as saviors in this crisis.
But like we have said time and again, these very industries are in large part responsible for the multi-faceted crises we are facing. Recall that a Shell executive recently boasted that the company was part of the drafters of the Paris Agreement. As would be expected, the Agreement did not have a binding enforcement mechanism and five years down the line, the implementation still does not have a clear path.
These corporations have eroded the power of governments to effectively address global disasters like the climate crisis and COVID-19. They are the ones who should be paying, not being bailed out. They have simultaneously driven the deforestation, extinction and biodiversity loss crises that drive animals out of their habitat and enable pathogens to spread around the world. They have extracted wealth from and perpetrated environmental racism in communities of color and Indigenous communities around the world.
Our own Ogoniland which is suffering from near irreversible impacts of Shell's environmental misadventure readily comes to mind. Is it not surprising that even as the cleanup of Ogoniland is at a worrisome snail speed, Shell is already haggling to resume oil extraction in the community.
Why we are here
Today, a global coalition of international climate justice groups released a liability road map to help achieve that reality: an actionable tool to make Big Polluters to pay.
The liability road map is the first of its kind. It is a concrete guide for local, national, and global decision-makers and governments from people and organizers, led by and created in collaboration with those on the frontlines of climate change.
It provides step by step guidance for decision-makers to hold Big Polluters liable for the harm they have knowingly caused people and the planet. It is a menu of measures and tools they can use to finance the systems change we urgently need, to access publicly controlled solutions, and to address the climate crisis.
For example, it charts how international policymakers can finally access the finance needed by frontline communities to deal with climate damage by establishing a Loss & Damage fund, and how mechanisms like a climate damage fine for polluters, countries can help finance the fund.
It also details a suite of measures national lawmakers can implement to ensure there are palpable ways for corporations to be tried and found guilty of the environmental destruction they knowingly cause. These measures include things like enshrining the need for nature and human rights to be protected in national law, placing the "burden of proof" on accused corporations to prove they are innocent, and passing laws that stop corporate attempts to "pre-empt" justice through actions like trying to switch law suits to more favorable courts.
It also charts a variety of meaningful actions that local elected officials, for example, can take. These include things like passing local regulations that curb the ability of fossil fuel corporations to extract, transport, or promote their product locally. Or compelling the release of industry documents or establishing community-based climate damages funds.
Why Liability?
Liability is a concept that has been practiced by and communities around the world for centuries, through restitution and reparations, through legal means, legislative means, and more informal means.
Examples of this abound across the globe. Liability for polluters has been called for by communities as diverse as fisherfolk in India, social justice movements around the world calling for paying of climate debt through COVID-19 recovery, Black communities demanding reparations in the U.S., and legal experts all over the world. Other examples below:
And even if a handful of governments and decisionmakers put the liability road map into place, it will lead the way for legal and societal constraints on how Big Polluters and other harmful industries can operate.
It will carry us further down the road where Big Polluters are forced to put people's well-being and the well-being of the Earth and its ecosystems above expansion, extraction, and profit making.
And it will clear the way for the implementation of real solutions to slow temperature rise, restore ecosystems and their natural carbon sinks, farm and feed people in ways that benefit both the Earth and people, and so much more.
In the immediate term, taking steps to advance liability measures through stimulus and recovery policies can help pay for and make truly progressive policies feasible in this moment.
The liability roadmap is meant to be a living document that will continue to be updated as new opportunities, guidance, and case studies emerge.