Useful modification of industrial process designs to achieve better efficiency, improved capacity utilisation and sustainable use of natural resources have been identified as major reasons why the government emphasises the need for Environmental Impact Assessment (EIA) reports.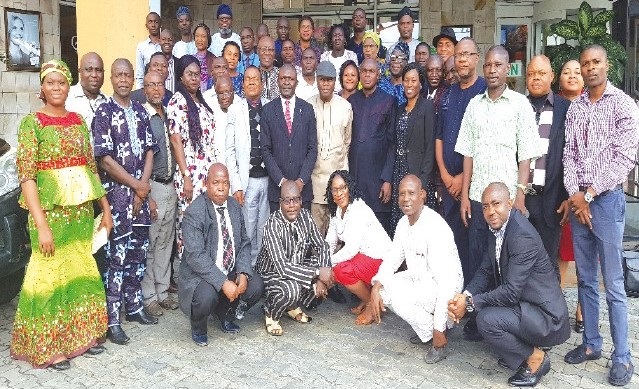 Permanent Secretary in the Federal Ministry of Environment, Mr Aliboh Leon Lawrence, made the submission in Port Harcourt, Rivers State on Tuesday, September 25, 2018 during the opening of a three-day "Stakeholders' Interactive Forum on Environmental and Social Impact Assessment (ESIA) For Renewable Energy (RE) Development in Nigeria".
The forum held courtesy of the UNDP-GEF (United Nations Development Programme – Global Environment Facility) De-risking Renewable Energy NAMA (Nationally Appropriate Mitigation Action) for the Power Sector Project that aims to ensure effectiveness and sustainability of investment in the RE Sector.
One of the objectives of the initiative, according to the project promoters, is to achieve a transformation in the electricity mix such that at least 20GW of Nigeria's electricity is generated from solar PV by 2030 – albeit in an environmentally and socially sustainable manner.
Lawrence, who was represented by the Director, Environmental Assessment Department in the ministry, Mr John Alonge, disclosed that the ministry had received and evaluated over 4,000 different categories of EIA reports for projects in various sectors of the economy including renewable energy, oil and gas infrastructure, incineration, ginnery, manufacturing, waste management and agriculture, among others.
The EIA process in Nigeria as in many other countries of the world recognises the importance of the views and concerns of stakeholders in the successful implementation of development projects, added Lawrence, pointing out that public consultation and participation in the EIA process are key components of the EIA law in country.
He stressed that, by providing the affected people with the mechanism for presenting their range of social, economic and political problems, public participation not only helps in enriching EIA process but serves to stem agitation and lack of cooperation from host communities and other interested parties and thus create an enabling environment for projects to be successfully implemented.
His words: "Our experience in stakeholders' participation in the EIA process for renewable energy projects in the last five years shows increasing understanding by our people of the importance of EIA as a tool for environmental management. However, if the full objectives of EIA are to be met, stakeholders must move from mere criticism of EIA studies and the demand for monetary compensations alone to a more constructive evaluation of EIA reports based on sound knowledge of local environment in which the project is situation."
Pproject team leader, Okon Ekpenyong, said the overall objective of the forum is to support the implementation of the EIA Act towards enhancing sustainability and ease of access to finance, with the specific objectives being to discuss and sensitise stakeholders on key elements of EIA Act vis-à-vis sustainability principles and requirements of international financiers.
Ekpenyong, an engineer, also listed the objectives to include: carrying out rapid assessment and identifying gaps; reviewing existing accredited environmental assessment of consultants and modalities for feedback and sanctions; establishing appropriate framework for baseline data collection; and identifying challenges and recommending measures for addressing them.
Delivering a paper on "Environmental implications of large-scale renewable energy projects", the Managing Director, Environmental Accord Limited, Ibrahim Salau, identified two major risks to be addressed in the sector as building local capacity across sectors and de-risking the risk of lengthy and expensive permitting process.
He said: "De-risking the large-scale renewable energy sector is important because we need electricity, and not just because we need electricity, but we need clean electricity which large-scale electricity project will deliver but we also need to address these risks. So, the first risk relates to the quality of the environmental and social impact reports that are prepared in Nigeria. So, that relates to increased cost to investors because they need to bring in foreign experts because most local consultants are not able to deliver the required quality. So, they then need to bring in international consultants who are expensive. This relates to cost. This can be addressed by building the capacity of local consultants, and also of different stakeholders.
"There is also the permitting process, there's a risk that the permitting process can be lengthy and very costly. So, the duration of the permitting process is determined by the Nigerian EIA process which the federal ministry of environment oversees. So, that's why the FME needs to be a bit more flexible to see how it can work with developers to make things happen more quickly and reduce cost.
"They can reduce cost if one season baseline studies is approved compared to a two-season, that saves cost for the developer. They can also save cost by looking at the rate, the fees that are charged along the entire permitting process. It can also reduce cost and duration by coming up with an abridged version of the process as it has been doing with other sectors, for instance, the mini-grid sector."
A participant from Akwa Ibom State Ministry of Environment in Uyo, Emem Umoette, highlighted the importance of renewable energy sector in power generation, saying that, apart from ensuring environmentally-friendly low carbon emission, readily accessible and inexhaustible, they are relatively economical and easier to maintain at the long-run.
Mrs Donna Aimiuwu of the Federal Ministry of Environment underscored the importance of the meeting, saying it sensitised stakeholders of emerging trends in the sector for better knowledge and enhanced regulatory process.
She said: "The private sector and other practitioners are here and along the line every stakeholder will come in and that will help to ensure the goals for this particular programme is achieved. So, this is a step towards the wholesome goal.
"You can see that along the line a lot of us got better educated about the prevailing trends and emergent issues that have come in the line of environmental issues. The issue of environment concerns everybody and we're talking of large-scale project here and assessing funds from international organisations, hence the concern. The private sector and other practitioners are here and along the line every stakeholder will come in and that will help to ensure the goals for this particular programme is achieved. So, this is a step towards the wholesome goal," she added.