The President of COP25, Carolina Schmidt, participated at the 14th Regional Conference on Women in Latin America and the Caribbean, in the Economic Commission for Latin America and the Caribbean (ECLAC), where she explored trends, opportunities and challenges in this area.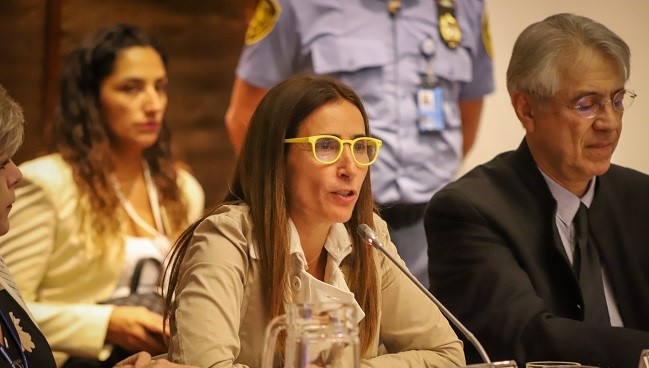 The Chilean Minister of the Environment participated at the event together with the Minister for Women and Gender Equality, Isabel Plá, and the Executive Secretary of ECLAC, Alicia Barcena.
Within the framework of the panel "Climate change: Trends, opportunities and challenges for gender equality", the Secretary of State explained the importance of integrating women into the environmental issue.
"Women are more vulnerable to the effects of climate change, but we are also important agents of change. The gender perspective plays a fundamental role in understanding the disproportionate impact of climate change and the loss of biodiversity, due to the existing structural inequalities to reduce the gaps," she said.
In the instance, the Minister was emphatic in saying that "social justice is key in climate action".
"Sustainable development is not possible without the women involved with the capacity to influence climate change policies. We need decision makers developing climate policies for the 2030 agenda. We must empower decision makers," she noted.
Schmidt also referred to the progress made in the Conference that took place in December 2019 in Madrid, Spain and that in Chile this year.
The mandate for COP25 was to review and renew both the Lima Gender Work Programme (LWPG) and its Action Plan (GAP), she disclosed, adding that the instrument allows countries to integrate the gender perspective in the implementation of the Paris Agreement, as well as to strengthen the role and empowerment of women in their respective local communities.
"The Gender Work of Lima and the Gender Plan were contained in two different decisions for having been agreed at different times: one at COP20 and the other at COP23, respectively. Thanks to the revision and harmonization carried out at COP25, both instruments were merged into a single decision, which should be reviewed within a period of 5 years (2024), with a three-year interim review (2022). The Gender Action Plan is a roadmap for the Ministries of the Environment, with specific activities that we must develop to reduce the gender gap," said Schmidt.
Schmidt called for efforts to achieve gender-sensitive climate policies that integrate this approach in a coherent and effective manner in all activities related to adaptation, mitigation and means of implementation related to financing, development and transfer of technologies and capacity building.