In his address to delegates at the Sustainable Investment Forum on May 9, 2023, UN Climate Change Executive Secretary, Simon Stiell, explored an issue supposedly of critical importance: climate finance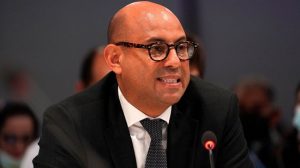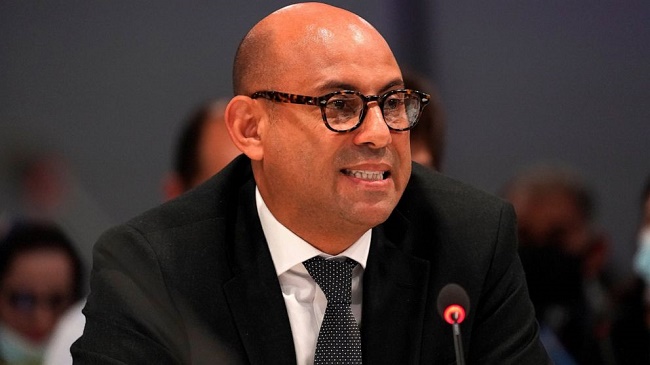 Let's get right to the point. Everyone in this room is aware of the urgent need to mobilise trillions of dollars in investment to tackle the climate crisis. We've made some progress in recent years, but we still have a long way to go.
So how do we get there? What do we need to do, starting right now, to mobilise those trillions of dollars? And how can we work together to make that happen?
From shifting investor preferences to reforming multilateral development banks to tackling currency risks, there are many factors that will determine our success or failure in this endeavor.
But before we dive into the details, let's take a step back and consider why climate finance matters.
Put simply, we cannot achieve our climate goals without it. Whether we are talking about transitioning to renewable energy, improving energy efficiency, or protecting vulnerable communities from the impacts of climate change, all of these efforts require significant investment.
We hear again and again that meeting the climate change challenge is costly. Something is costly when it does not contribute to the goals we set ourselves, as individuals or as societies.
Climate finance, though, is ultimately about what we, as societies, value; the world we want to live in and the lives and hardships we can save by channeling our money to build resilience against the ravages of climate change.
This is what we mean when we say we need to get the financing right.
With that in mind, I want to touch on three main points today.
First, I want to set out what the current financial response to the climate challenge looks like.
Second, I want to talk about reforming the international financial architecture.
And third, I want to explain why the global stocktake and the new goal on climate finance are pivotal moments to set these reforms in motion.
So, let's start with the financial response to the climate challenge.
We know the scale of what's needed is significant. Global models from the most authoritative institutions all converge in the range of trillions annually. According to the work of the UNFCCC's Standing Committee on Finance, developing countries need nearly 6 trillion dollars to implement their climate action plans by 2030, and that's with significant gaps in costing adaptation needs.
This investment is needed right now.
The UN's Intergovernmental Panel on Climate Change notes that a big surge in investments before 2030 will not only help us meet our emission reduction goals, but it will also help accelerate economies of scale and innovation for cheaper investment costs after 2030. This will help cut adaptation costs as well.
So, we need a surge in investment in the short term that will help set us on a path of sustainable growth to 2050 and beyond. If we miss this window, it may be too late.
When it comes to reducing emissions, we are seeing cheaper and more competitive technology costs that can bring more climate solutions to market in renewables and transport. But financing roadblocks remain in developing countries, stopping any significant rollout at the rate we need.
According to the IEA, clean energy investment in developing countries – apart from China – has flatlined since 2015 at approximately $200 billion.
Before the current inflation and debt crisis even hit, these countries were already facing financing conditions seven to fifteen times more expensive than in developed countries.
This is where we are right now.
Which brings me to my second point: reform. We need to reform the international financial architecture, including private finance flows and multilateral development banks.
We need to make the current international financial architecture fit for purpose to enable low emissions and climate-resilient investment globally, in every region and in every country.
At COP27, Parties called for a transformation of the financial system and its structures and processes, engaging governments, central banks, commercial banks, institutional investors and other financial actors. They also called for significant reforms of multilateral financial institutions in terms of financing models, risk appetites, and non-debt instruments.
We're also seeing new initiatives from the financial sector that highlight the need for scaled up climate finance. We're seeing central banks form coalitions and networks; we're seeing financial institutions make net-zero pledges, and we're seeing a growing number of country investment platforms and just energy transition partnerships.
In addition, a growing number of complementary efforts on reform are in motion, including through the G20, V20, the IMF and other regional forums.
The number of initiatives alone show how the reform imperative has garnered increasing momentum, but at the same time, how it could fragment into disparate efforts. It reinforces more than ever the importance of coordination to ensure the whole is greater than the sum of its parts.
Reforms must respond to the need to drive progress across three main areas.
First, we need to drive progress on managing risks to investing in climate action in developing countries. Where risk is real, we need to deploy at scale the risk reduction instruments – such as guarantees, insurance, and local currency hedging and financing – necessary to unlock capital. Where risk is perceived, we need to address the biases that hinder investment at scale, and the expectation of high financial returns when engaging on climate change.
Second, we need to drive progress on financing a just and equitable transition. We need to develop transparent transition plans that shift investment portfolios over time, and that enable ramp-ups in climate investments to the same extent as we see a phasing out harmful investments.
Third, we need to drive progress on managing the debt crisis. We need to develop a shared understanding of climate-fiscal-debt links and ensure no country builds up excessive debt because of climate action.
This brings me to my final point: using the global stocktake and the new collective quantified goal on climate finance as pivotal moments to set reforms in motion.
The global stocktake is a process for countries and stakeholders to see where they're collectively making progress towards meeting the goals of the Paris Agreement – and where they're not.
It's like taking inventory. It means looking at everything related to where the world stands on climate action and support, identifying the gaps, and working together to chart a better course forward to accelerate climate action.
The stocktake is a course-correcting moment, an opportunity to provide a roadmap with 'solutions pathways' that drive immediate action.
Some of the key finance pathways could include fostering accountability of non-state actor commitments, and innovative financing models to tackle currency risks.
We need to restore the trust in the adequate and predictable provision of financial support to developing countries for climate action. The importance of fulfilling the goal of jointly mobilizing 100 billion dollars a year is critical – just last week we've received a positive signal that donors are on track to deliver that goal this year.
The post 2025 new goal on climate finance is an opportunity to rebuild confidence in the transformational change that is required to mobilize and deliver finance in a way that addresses the needs of developing countries. But how do we avoid the pitfalls of the 100 billion and better support private sector mobilisation?
A historic decision was taken at COP27 to establish new funding arrangements and a fund for responding to loss and damage. This has created a unique opportunity, and great responsibility, to address new and innovative areas that we have never dealt with before in the context of climate finance. This fund  can make a real difference in the lives of vulnerable people around the world.
This is the year we need to establish clarity on how governments, multilateral development banks and international financial institutions, private sector finance institutions and industries will deliver the trillions required.
I emphasise again for the urgent need for action on climate finance, and the importance of collaboration and innovation in addressing this complex challenge.
But let's not forget that climate finance is ultimately about people, not just numbers on a balance sheet.
It's about protecting our planet, our communities, and our future generations from the devastating impacts of climate change.
And, it's about building a more equitable and inclusive economy that benefits everyone, not just the privileged few.
So, let's keep pushing forward with determination and purpose.